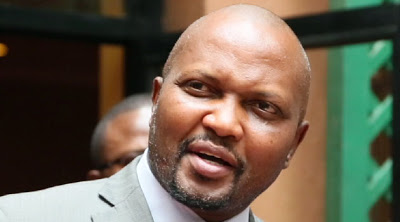 Moses Kuria is the current member of parliament for Gatundu South.
The firebrand politician has been one of the key allies of the deputy president.
He has played a major role in helping William Ruto to penetrate the Mount Kenya politics.
Moses Kuria's stand in the hustler nation is shaky because he has refused to fold his party and join UDA.
He is very cunning and no sane political player can trust him 100%.
His sentiments about the demands mount Kenya is putting forth to any presidential candidate before the mountain supports him caused jitters.
According to Moses Kuria, any presidential candidate that wants to inherit the vote rich Mount Kenya must meet those conditions.
Some conditions are, 40% of all cabinet slots,parastatals and government jobs for the people of the mountain and a running mate.
Most Kenyans downplayed his demands, terming them unrealistic and selfish.
Kuria has been one politician advocating for the unity of the mountain, which will help them have a bargaining power.
Many political pundits dismiss him because he is reckless and broke with no solid political base.
In a recent interview at KTN TV,Moses Kuria revealed he is not Uhuru's mole in Tanga Tanga.
He suspects that deputy president William Ruto is the mole Uhuru has planted in UDA to destroy the hustler nation.
"The one man that i suspect to be Uhuru's mole is William Ruto because they became friends and know each other longer than some of us," Kuria said.
ALSO READ:
1: Mercy Maluli: Kenyans Laugh at the CEO Of Devine Collection's Birthday Gift For Her 6-Year-Old Son
2: Eric Omondi's Friend Antonio the MC Exposed Badly
3: Barren Woman Arrested For Faking Pregnancy To Sneak Into KNH Maternity To Steal A Baby