Mediheal Group of hospitals has become very popular in Kenya of late. This is because the private hospitals are well equipped to serve their clients with modern facilities.
But today they are trending on Twitter for all the wrong reasons. A nurse that works at the facility has decided to spill the beans on what has been going on in their Easteigh branch.
According to the anonymous healthcare provider who sent a message to controversial blogger Robert Alai, workers at the hospital were forced to take a 50% pay cut effective the month of May 2021.
But the truth of the matter is that they have not been paid for two good months running despite working full time. It is a sad state of affairs really. The patients have been flowing in and out of the facility as usual and they are charged a fortune.
The hospital administration seems to care less for the Kenyan nurses, some of whom have been kicked out of their rented houses. As that is happening, the Indian nurses working in the same facility are treated differently.
READ ALSO: Who Is Better? Larry Madowo And Trevor Ombija's Twerking Skills Sparks Online Debate
"The Indian nurses working here are paid so much more than us and they are housed within the hospital premises. So they do not have to worry about dealing with ruthless landlords like we do," writes the disgruntled nurse.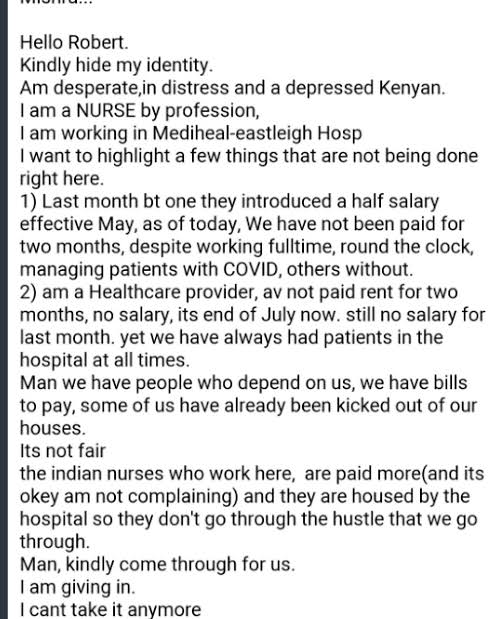 If this nurse's statement is true, then it is serious and needs immediate investigations and corrective action by the Government. Being openly mistreated and discriminated in one's own country is grossly unkind and unacceptable.
The revelation has angered many Kenyans on social media given that Mediheal is one of the most fancied private health facilities in the country.
Racism has been the way of services @MedihealH .you get services actually based on your race. As an African you just seen as beggar coming to plead for services#MedihealExposed pic.twitter.com/wKxyvjbMNl

— Ann Nyarega (@AnnNyarega) August 9, 2021
However, this has been the norm in most Indian companies and businesses in Kenya. They always treat black Kenyans as second class citizens. The government has to come up with a regulation for this uncouth behavior by Indian bosses.