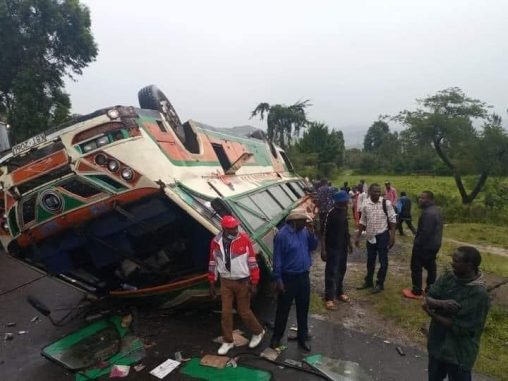 A deadly accident involving a Mbukinya bus occurred in Fort Ternan, Muhoroni, Kisumu county.
Several people, possibly twenty, we believe are deceased. Mbukinya was traveling from Nairobi to Kisumu.
Although the cause of the accident is unknown, they transported several injured passengers to JOOTRH.
They took others to subcounty hospitals in the vicinity for emergency treatment.
Many people have died in road traffic accidents in Kenya, which is why Kenya has barred buses from running at night.
This is a method devised to reduce the level of road carnage that had become too much to handle.
The adoption of speed governors in passenger vehicles is another set of measures implemented by the NTSA
Unscrupulous gadget dealers and drivers of passenger service cars work together to ensure that they don't work.
Another approach they used to limit the amount of accidents on our roads is the adoption of safety belts.
Kenyans are a tough bunch to work with, and it takes a lot of effort by the police personnel to ensure that they follow the orders.
It worked for a while until the cops realized the government had set up a way for them to make money on the road.
They bribe them with 100 shillings to enable Matatus to overcrowd, and passengers do not wear their seatbelts.
They don't check if their speed governors are functional.
Kenyans' mindset has made it normal not to do the right thing to protect lives.
Because the police and Kenyans are not cooperating, the president's government is having difficulty implementing some of these programs.
READ ALSO:
1: Polite Note To Camera Users In A Club Goes Viral After Saying This
2: Moses Kuria: Why He May Never Walk Again
3: Silas Jakakimba Pays This Much Dowry In A Colorful Wedding Ceremony