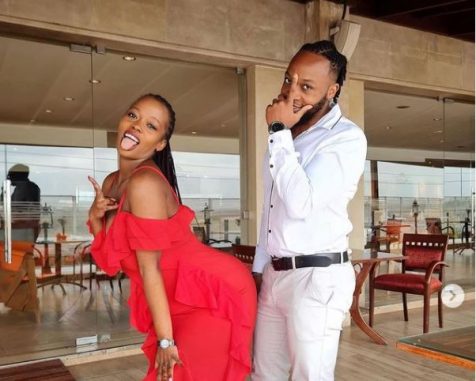 Socialite Corazon Kwamboka fell pregnant again even before her first born Taiyari celebrated his first birthday. For someone that has been battling endometriosis, the pregnancies came as miracles.
Fitness trainer and enthusiast Frankie Kiarie alias 'Just Gym It' is the baby daddy. The popular vlogger proposed to his girlfriend in Zanzibar during an extremely romantic vacation.
But many Kenyans still do not understand why the two lovebirds are not living together. They live in separate houses despite Socialite Corazon Kwamboka being heavily pregnant and raising a toddler.
The High Court advocate shocked fans when she posted on her IG stories about her struggles. She does not even have a house help to assist her with house chores.
Frankie is also missing in action. The guy is very busy with his businesses. Being a personal fitness trainer is no mean fit. But many Kenyans have raised concern over the kind of support he gives his fiancée.
"Now I am literally dying of hunger. What food should I cook? Living alone is not fun at all," wrote a he artbroken Corazon .
She then later took a photo of the food she had prepared; a small portion of ugali accompanied with sour milk. Corazon told her fans that she simply did not have the energy to cook.
ALSO READ:
1: Chuka Man Brutally Kills Wife then Beheads Daughter
2: The Exact KDF Salaries in Kenya in 2021
3. Strange: Serial Killer, Masten Wanjala's Family Refuses to Bury Him
Many wondered whether she was writing all that for clout. Her action exposed the nature of their relationship and financial position.
If she did not have the energy to cook, ordering an already cooked meal would have been the better option. A pregnant woman surviving on ugali and mala is not good at all.
Who knows? Maybe they are about to surprise their fans with a wedding. Kenyan celebrities have a habit of clout chasing before doing a major event.
Content creators are in the business of amassing followers and increasing their views. Let us hope that is the case. Otherwise a pregnant socialite cannot be struggling with basic needs like food.