Nixon Koech, a final year Kisii University student from Narok County has penned an emotional letter for William Ruto. The young man hails from Transmara East Sub County, Chemamit Sub Location, Chelelach Village.
He wrote the heartfelt letter to H. E Deputy President, Dr William Samoei Ruto requesting financial help for university tuition expenses. It looks like he is a parallel program student because the fees balance is huge.
According to the letter, dated September 23rd, 2021, Nixon claims that there is no one to clear his fees arrears of KES 138,200. As a result, it prompted him to put his desperate condition to public.
The guy has missed three consecutive graduation ceremonies because of his arrears. He is an Education Arts student. In Kenya, the year of graduation is very significant for Education students. It determines when the Teachers Service Commission can absorb them.
The teachers' employer has already absorbed some of his colleagues as he is struggling to make ends meet.
He is the sole bread winner
To add insult to injury, the Kisii University student is taking care of his ageing parents. He comes from a very poor family and he has taken the role of a breadwinner. He even pays fees for his young siblings.
"I have had to work hard single handedly to cater for my ageing parents and siblings. I burn midnight oil to meet both tuition and hostel expenses," wrote Nixon in well-articulated English.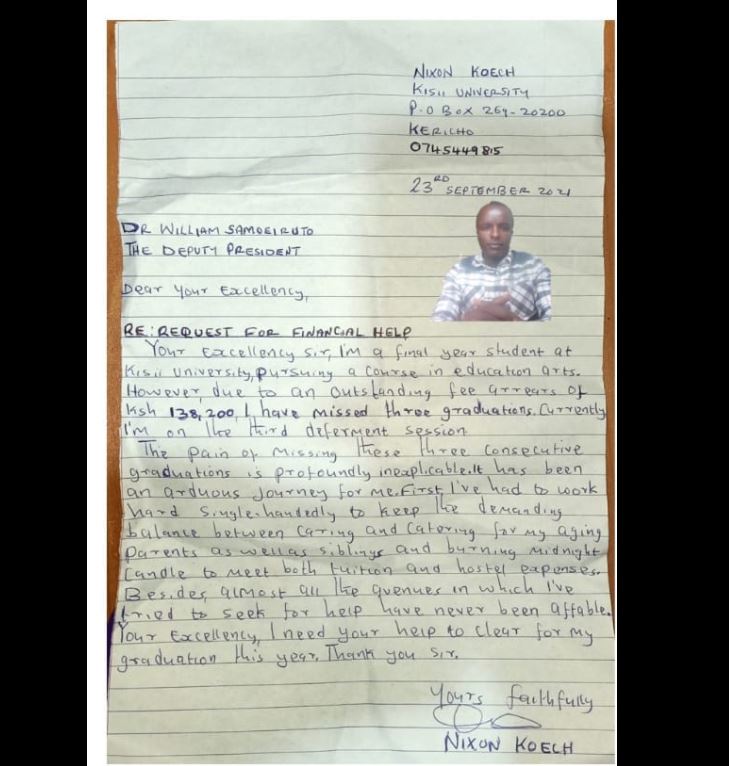 It is sad that not even CDF could come to Nixon's rescue. The NG-CDF kitty releases a substantial amount to constituencies. Many members of parliament vet beneficiaries of CDF bursaries.
Those students whose families were against them in 2017 elections do not benefit. Recently, a certain member of parliament from Rift Valley launched bursaries across 4 wards worth millions. The beneficiaries were those who are politically correct.
Hope Nixon Koech gets help.
READ ALSO: Pastor Nganga- I have over 70 Children out of Wedlock