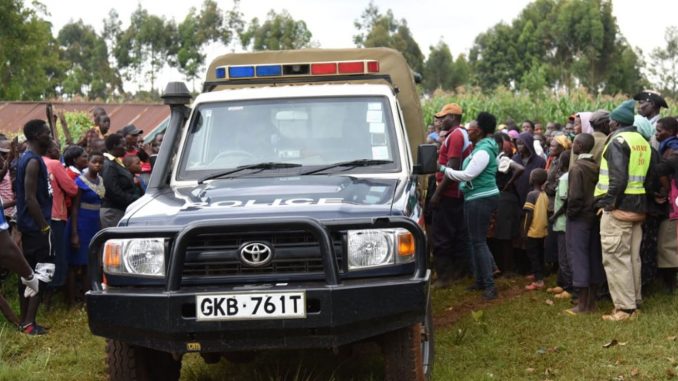 Kirinyaga county woke up to dreadful news when a man committed a heinous act in his family.
Kathata village, Kabare Ward, Gichugu constituency was the scene of the event.
Paul Njuki Murage, 35, brutally murdered his wife and four children, ranging in age from one year to thirteen years.
The man surrendered to the Kianyaga police station after perpetrating the heinous deed.
They alleged his wife discovered him raping their 13-year-old daughter, which is why he killed her before resorting to youngsters.
The police took the bodies of the deceased to morgue awaiting a postmortem.
The authorities are holding Paul Njuki at Kianyaga police station, Kirinyaga county, awaiting his arraignment at Gichugu law courts.
Incest is common in Kenya, and one wonders where our Christian ideals are in such a holy society.
In the Bible, incest refers to sexual encounters between tight related links that are forbidden by the Hebrew Bible.
We mostly found these prohibitions in Leviticus 18:7–18 and 20:11–21.
Kamiti Convicts Name Who Aided Them in To Escape, Reveals Scary Details of a 7-Month Plan
Kamiti convicts put the prison on the spot after they easily broke out. The heavily guarded facility boasts even CCTV cameras.
Despite all that, they dislodged cell blocks and scaled the high walls to escape.
This caused jitter among Kenyans, especially after what had just happened in Kampala.
Three suicide bombers detonated bombs in the Kampala city, killing 6 people instantly with scores of several others injured.
CLICK HERE TO CONTINUE READING>>>>>
6 Family Members In Migori Mysteriously Go Blind
Migori family of six from Uriri constituency is in shock after being blind suddenly.
George Omondi, a survivor and family member, stated that his family members went to bed on Friday feeling ok but awoke on Monday unable to see.
He further revealed that the strange ailment afflicted his wife and four of her children under the age of 24.
"When my wife and I went to bed on Friday night, we were all in good health."