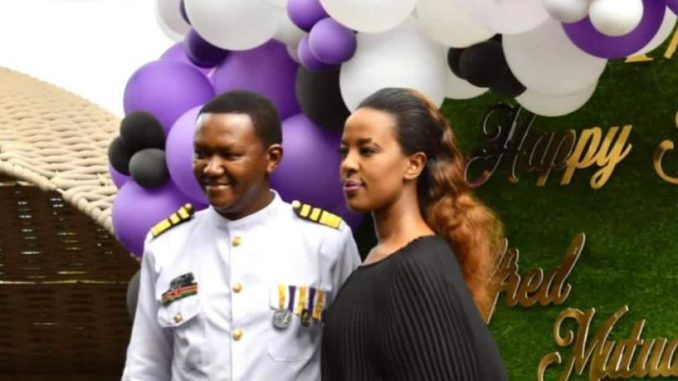 Machakos County Governor Alfred Mutua and Lillian Nganga sensationally announced their separation recently and Kenyans cannot stop talking about them. They were indeed a power couple always attracted attention every time they made a public appearance.
Immediately they made the public announcement, rumors of Julius being at the centre of their marital problems took centre stage. Photos of the high flying gospel rapper and the beautiful lady circulated widely on all social media platforms.
The eloquent governor was keen to assure his fans that all was well as far as friendship was concerned. He also hinted that Lillian was free to perform her first lady duties in Machakos County.
In her statement, the good lady contradicted her man after she made it clear that she had stepped down as the Machakos County First Lady. The only thing that she promised to continue pursuing is her foundation dubbed "Lillian Nganga Foundation" and some other charity projects.
Well, as a Kenyan saying goes, one should never interfere with two adults that have covered themselves with the same blanket/duvet.
READ ALSO: "Unatuchezea akili!" Facebook DCI Expose a Man That Posted His Wife on a Popular Couples Group
Lillian Nganga attended her ex-hubby Alfred Mutua's lavish birthday party today. Have a look at the photo below that was taken at the event;
The photo was posted on the Nairobi Gossip Club Facebook fan page and it elicited a lot of debate.
Some keen Kenyan was quick to note that the two did not look happy together. This is because of their body language. Mutua appears to be forcing a smile while Lillian is expressionless.
"The body language speaks it all," noted one Kanyugo Yrimu.
But it is the choice of dress that many found weird. Lillian chose to wear a black dress which is a sign of someone that is mourning.
"But the dress she wore during the party…implicates doom and yet it's a party day  …but that's what we call maturity breakup…" Dan Onyango wrote in the comment section.
Elssie Elssie also said, "Mambo ya watu wawili wamewaishare duvet Moja ,me nilisema sitaingilia,lakini ilikua tu lazima avae black, au ni kuomboleza their lost relationship 🥺🥺"
Eunice Nyabole asked, "Na black kwani anaomboleza?"
What do you have to say about the photo?