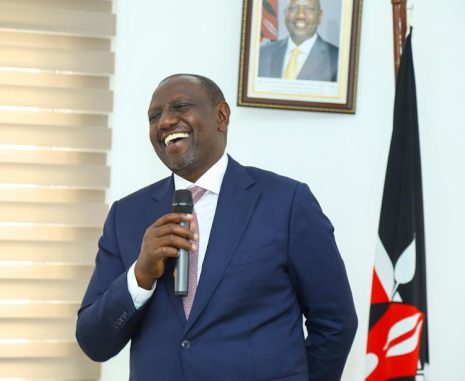 Kenya Kwanza government is under pressure to deliver on its campaign promises.
This has not been made easier by worsening inflation rates, high cost of living, banditry and opposition breathing down their necks.
Yesterday, opposition leader Raila Odinga and his Azimio brigade turned the heat on Kenya Kwanza Government to shape up or ship out.
He gave them a 14 day ultimatum to sort out the high cost of living and unilateral composition of the new IEBC.
Failure to which they will hit the streets for mass action across the country. Raila was speaking in Jivanjee gardens.
He led his troops to Jivanjee gardens in Nairobi city to pray for IEBS and our beloved country Kenya.
In a quick rejoinder, president Ruto dismissed those sentiments as mere blackmail that will not yield any fruits.
According to the head of state, the Government is in the process of lowering the prices of Maize flour and other commodities.
He said that the opposition should give him time to sort the mess they allegedly created in the last regime.
Ruto promised that they will not intimidate him to submission and he will guide Kenya under the rule of law.
Ruto wanted a strong opposition to check his Government and that is exactly what Azimio is giving them.
The Kenya Kwanza team has been making controversial claims that they will only serve people that voted for them.
We all know that the presidency is a unifying factor but those sentiments paints a different picture.
Before the dust settles following Gachagua's claims, the chairman of the presidential economic council is also at it.
Kenya Kwanza Promises
David Ndii claims that Kenya Kwanza never promised to lower the cost of electricity.
According to him Kenyans need to choose between lower electricity bills and no power all day like in South Africa.
Another option is to accept high electricity bills and have power all day.
Kenyans wonder how they intend to lower the cost of living with the high cost of energy.
Kenyans have gone further to confirm his claims by digging out Kenya Kwanza's manifesto.
They actually promised to lower the cost of electricity which means the government is lying after realizing they will not keep their promise.
READ ALSO: Clerics Gift To Raila Odinga At JivanJee Gardens Causes Panic In Kenya Kwanza