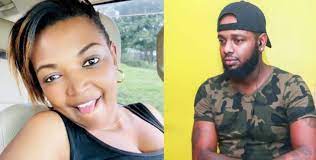 Dj Saint is the father of Karen Nyamu's daughter. He was a few days ago in the Radio Jambo studios for an interview and gave an insight about what kind of person Karen Nyamu is.
Dj saint used to be Karen Nyamu's husband but they parted ways when it became apparent that their relationship was not working. In an interview with Radio Jambo, Dj Saint revealed that he walked out of marriage with Karen Nyamu because she was very toxic, jealous, and intolerant.
He came forth to say these things about his baby mama after her current man Samido battered her over a domestic row that turned out to be clout chasing stunt.
The Nairobi-based politician and trained lawyer have exposed the DJ for being a liar who was out to portray her as a bad person who cannot keep a man.
Also Read: Akothee Reveals When She Knew Her New 'Bae' Is A Real Man That Can Be Trusted
She took issue with the fact that he told the public that he was the one that dumped her when it is the exact opposite. The mother of two revealed that she actually dumped the man and asked him to get his stuff and move out.
The man refused to go and kept begging her to forgive him. She devised a mechanism of making sure he moves out by lying to him that she was moving to a new house. He was not left with any choice other than to leave only for Karen to remain put in the same house.
DJ Saint sensing that things were getting hotter after his interview and his lies were being exposed, went to Karen's DM and apologized to her. He blamed the media for quoting him out of context.
The Beautiful lawyer doesn't seem to have any of that and it looks now that the poor DJ might not be allowed to see his daughter again.