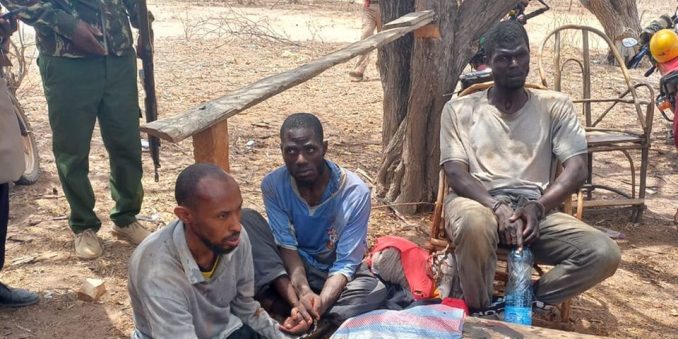 Kamiti convicts put the prison on the spot after they easily broke out. The heavily guarded facility boasts even CCTV cameras.
Despite all that, they dislodged cell blocks and scaled the high walls to escape.
This caused jitter among Kenyans, especially after what had just happened in Kampala.
Three suicide bombers detonated bombs in the Kampala city, killing 6 people instantly with scores of several others injured.
The Kamiti convicts are back in prison after members of the public helped to apprehend them.
They have told detectives how they began arranging the escape seven months ago with the help of a prison Warden.
The warden served as a liaison between the detainees and their counterparts in Somalia.
The warden is facing criminal charges in court to assist the convicts in escaping.
They handsomely compensated handsomely the warden for his efforts in helping them to escape..
When the prison masons came in to conduct some construction repair in the cell where the three were being confined, he was the officer in command.
The three drilled the hole at this point. On the night of the escape, the officer informed them they had inebriated his colleagues
They made sure the CCTV recording was faulty, allowing them to flee without being observed.
The convicts leaped over the walls and made their way to the road, where they discovered a Toyota Probox waiting to carry them to Machakos.
They picked Kamiti convicts by another vehicle, but it forced them to board a matatu after the car failed to arrive.
People The Kamiti Terrorists Were Constantly Calling
Kamiti terrorists convicts are back in prison after the police, and members of the public collaborated to get them back to prison.
The two made a spectacular escape from Kamiti Maximum Prison, with no one noticing. The sacking of their boss followed the bridge of the Kamiti prison guards.
Foul play and corruption aided the inmates' escape. They were close to succeeding, but because of the public, they were now back in arrest.
CLICK HERE TO CONTINUE READING>>>>>>