Kabi WaJesus (real name Peter Kabi) and his wife Milly Wambui appear to be one of the most perfect couples of their generation. They run a very successful YouTube Couple channel dubbed 'The Wajesus Family'.
Because of their channel, the two lovebirds have been able to land many product endorsement deals. They make a lot of money from the YouTube AdSense program alongside brand ambassadorial jobs.
Kabi and his family looked like they had their act together until his cousin called him out a few months ago for neglecting his biological child.
The 29-year-old YouTuber sired baby Abby with his first cousin called Ciku. When blogger Edgar Obare exposed the story, Kabi WaJesus and his wife Milly were quick to dismiss it. They termed the baby his niece.
When Ciku confirmed Kabi was the biological father to the girl, it embarrassed him even more since many Christians frown over incest. A DNA test confirmed Kabi's worst fears.
They took the matter to court since Kabi was not cooperative in taking care of the child. A Nairobi court concluded recently the case and Kabi lost.
According to the court ruling, the aggressive content creator is to take care of Baby Abby's school related expenses. Kabi WaJesus will take care of all expenses associated with her education.
ALSO READ:
1. The Gods Were Against Him: What Happened To Agnes Tirop Husband Moments Before He Was Arrested
2. Cartoon Comedian Forced To Delete This Insensitive Video about Kenyans Living in the Middle East
3. Nakuru Tycoon's Late Son Daniel Mahinda Mwangi Left This Emotional Suicide Note
The court also ordered him to take charge of all her medical expenses. While Mama Abby will provide for shelter and clothing, Kabi will provide for food.
Abby's mother contacted blogger Edgar Obare to update him of what has been happening. She revealed how Kabi has been frustrating her.
Kabi was not willing to foot all the expenses related to the school where the kid is learning. Have a look at the screenshots below obtained from the BNNKE Instagram stories.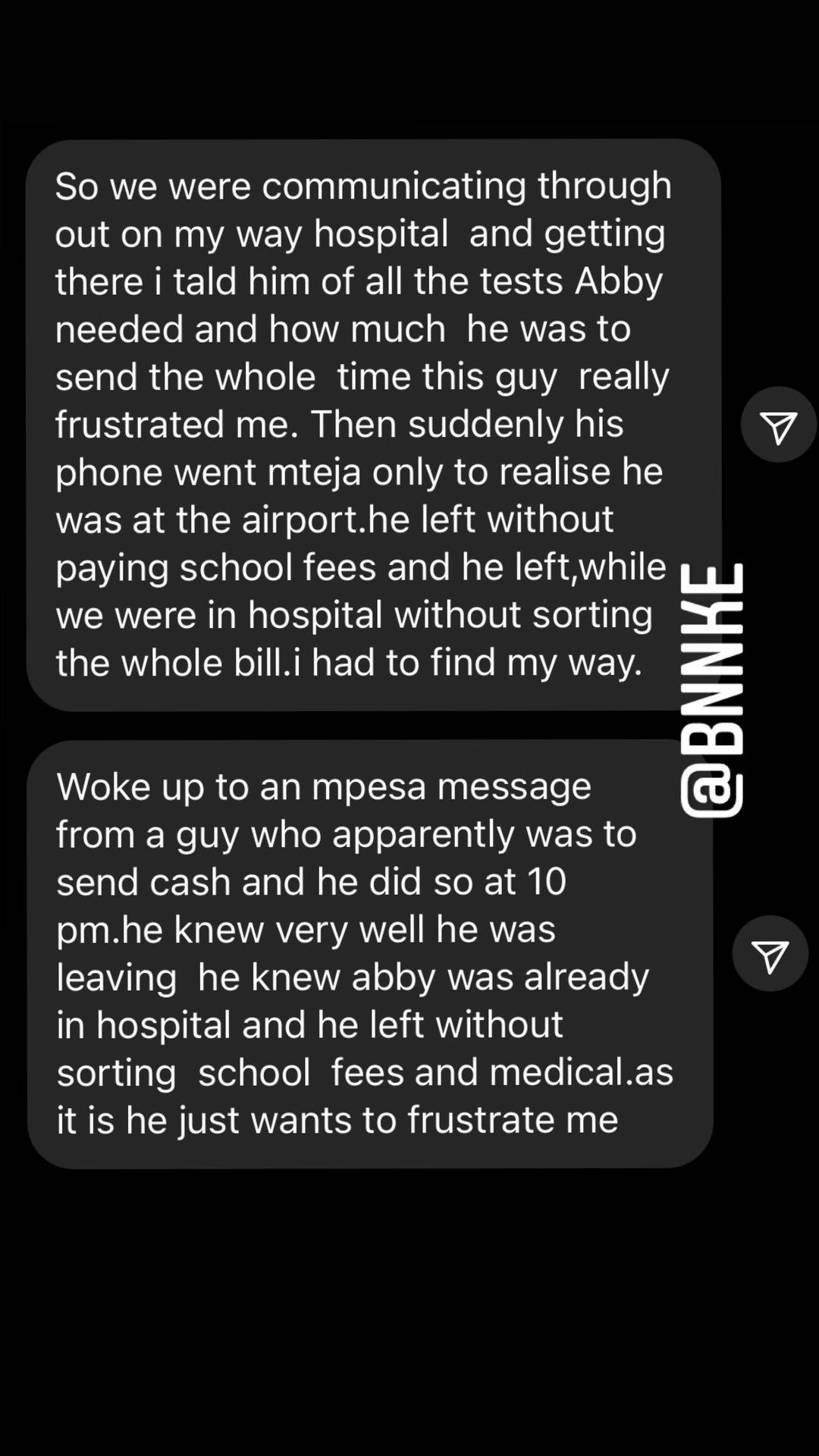 It took some persuasion from Mama Abby for Kabi to finally part with some cash for Abby's school fees and medical expenses. Only time will tell whether the lad will continue supporting Abby amid the pressure.