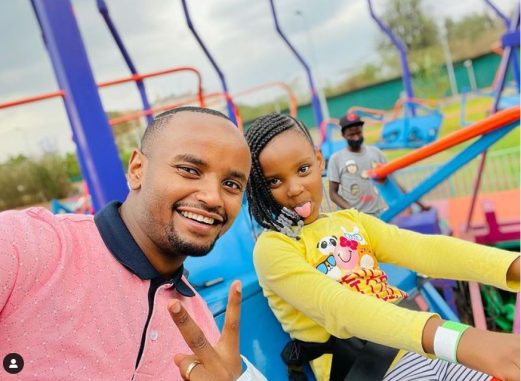 Popular content creator Peter Kabi alias Kabi Wa Jesus has been in a child support tussle with his baby mama. His baby mama, Dotty Ciku is also his cousin.
The story of baby Abby was brought to the world through Kabi's cousin, Ruth who lives in the USA. She shared the tea with blogger Edgar Obare who then spilt it to his followers.
Kabi Wa Jesus and his wife Milly then released a video denying having a child out of wedlock. He termed Ciku his cousin and Abby his niece. Technically, his statement was accurate. He only omitted some important information in the video.
A few days later, the social media influencer demanded for a DNA test to find out paternity. Fans heavily criticized the move especially after the results confirmed he was the father to Abby.
It was a 99.9% match. The two parties involved lawyers to streamline the child support arrangements. Abby was already in one of the prestigious private schools in Nairobi.
According to Kabi, he paid the child's PP2 third term fees which was KES 60000. This happened before the court determined that they should meet the school expenses halfway.
READ ALSO:
1: One Kenya Alliance (OKA) Forms New Alliance with Mt Kenya Kingpins
2: People The Kamiti Terrorists Were Constantly Calling Revealed By The Police
3: Viral Video of Mike Sonko Making Mary Nkatha Show Her Private Parts
In the first term of Grade One, he paid his end of the bargain, KES 30000. On top of that, he bought the kid new uniforms worth KES 10000. Unfortunately, Ciku could not meet his half. That is why they transferred her to a cheaper but equally prestigious school.
Kabi shared all the receipts during an interview with popular YouTuber Mungai Eve. Ciku has been exposing the WaJesus Family on Edgar Obare's BNNKE IG page. She has been accusing Kabi of neglecting his financial obligations towards baby Abby.
He strongly defended himself with hard evidence. At one point he revealed that Ciku is married to a guy called Collins. They have two other kids together.
"There is a time Abby needed a drug costing KES 150. I told him (Ciku's hubby) to buy then I refund when I can back from a business trip. He said he did not have the money," revealed Kabi.