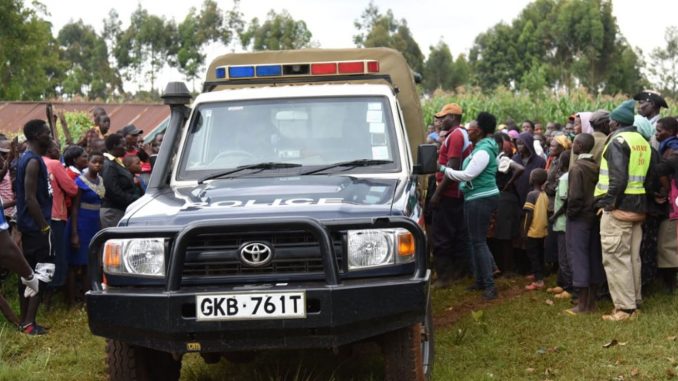 Kabete police officer has killed his wife after what looks like a domestic row.
He also shot dead 5 other people and injured several others as members of the public tried to disarm him.
The enraged police officer later turned the gun on himself. They are yet to establish the nature of the domestic row.
The incident happened this morning in J apartments near N market, Kabete subcounty.
Kabete sub-county police commander, Francis Wahome, has confirmed the same.
Kabete Police officers and others work under very tough conditions with less compensation and that is driving them into depression and suicidal thoughts.
Issues of infidelity also play a major role in influencing the violence we see among police officers. They need counselling for psychological breakdown.
This is an area the government and the police service should look to prevent this sad turn of events.
More updates to follow…
Police officers are integral to the security of our nation.
They play an important role in protecting the lives and properties of Kenyans.
Police officers are also used to maintain law and order in any country in the universe.
However, because of some challenges these uniformed officers face, they indulge themselves in illegal activities.
Some of those activities include corruption, robbery with violence, extrajudicial killings and even kidnapping.
The police department for long a longtime has been facing accusations of leading in corruption activities.
Even though some of them have faced prosecution in a court of law for engaging in crime, most of them go unpunished.
Most Kenyans have perfected the art of fraud, especially in Nairobi. Many young men and women don't want to work hard.
They want shortcuts in life, and that is why everyone is defrauding each other in the guise of offering services.