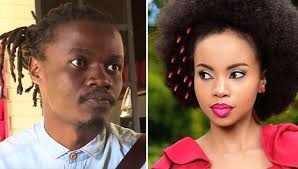 Beautiful actress Brenda Wairimu and musician Juliani dated for almost a decade and they were blessed with a cute daughter.
The couple broke up and they disappointed most of their fans that rooted for the two to remain married. The reasons for their break up never made it to the public.
The couple has been raising their daughter as co-parents something that is becoming rather normal in our society these days.
People tried to speculate about the much-publicized split but no one seemed to get the inside information. Taking to her Twitter account, Brenda hinted to her fans what led to their split.
Also Read: Samido's Latest Action Proves Why You Should Never Trust What Your Favorite Celebrity Is Telling You
She said that Juliani order a pizza and was mistakenly sent to her side chic who called to thank him and that is how he was caught red-handed.
"Eating debonairs alone in an AirBnBand. I remembered the time I found out I was being cheated on because we ordered Pizza and Debonairs sent it over to her house instead and called to tell us…Please don't let me date again."
Brenda vowed never to date again but later she deleted the tweet after she realized things were getting ugly because Juliani responded with a slight dig on her.
"When telling our stories nobody represents himself or herself as a villain.


Realizing that Brenda Wairimu was not ready for a fight because she deleted her earlier tweet, Julian followed suit and posted another tweet telling off Kenyans that wanted him to start fighting with his baby mama on social media.
"Nimenotice wasee wanatry to connect my tweet na hiyo ya B! Mtangoja sana kuona nikifight mother was mtoi wangu kwa hizi app."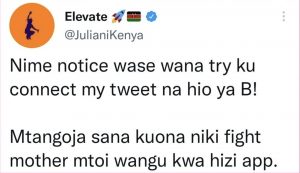 He went ahead to praise her for being a good mother to their daughter and vowed to continue respecting the fact that she is his daughter's mum and that will never change.