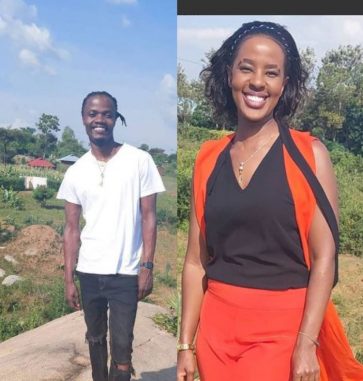 Kenyans suspect Juliani and his new girlfriend Lilian Ng'ang'a may have visited his family in Nyanza. This happened over this past weekend.
Because of the difficult terrain, the two uploaded pleasant images while upcountry. Curious social media users were quick to declare they were in Kisumu County.
Juliani, who is from the area, took to social media to express how much he enjoyed his vacation.
"I have been wandering around barefoot. Being connected, releasing the toxin to the ground. Receiving all the earth's healing power is what I term earthing. Planting is taking place. A seed must die before it can grow," he said.
Lillian Ngángá also posted images of herself in the same area on social media. She described her visit as refreshing.
The pictures prompted many to believe Juliani took her to meet his parents. It is just four months since they began dating.
Juliani stated that his parents have been concerned about his life. Since they met with Lillian, his folks fear for their lives.
ALSO READ:
1: Big Blow to Tangatanga as DP Ruto's Vocal Ally Switches to Raila's ODM
2: DP William Ruto Takes a Jab at His Boss Uhuru Kenyatta; Warns Him About 2022 Elections
3. Nairobi Governor Appoints City Politician To Be Her Deputy

The rapper had requested fans to not speculate since it worried her mother.
Juliani says his family is in a crisis mode
"My mother is in crisis mode. I reminded her of the God who had cured her of cancer. The same one who kept me and my six siblings safe in Dandora. He is the one we are now praying…," Juliani wrote recently in a tweet.
Since they made their relationship public, the two lovers have topped trending charts.
Lillian even admitted that, unlike her ex-lover Governor Alfred Mutua, loving Juliani had improved her.
Following her breakup with Mutua, Ngángá has gone on a series of rants and interviews. She claims the governor has been harassing her after naming her 'Enemy Number One'.
Lillian has sued Mutua. She accuses him of illegally repossessing her property. Dr. Mutua also transferred her shares in a company they jointly own.
"Mr. Mutua fiercely referred to me as his Enemy No. 1. He threatened to 'crush me to ashes'. The guy demands that I reimburse any money he has ever given me or made accessible for my use," she said.