Popular Kenyan rapper Julius Owino alias Juliani has called out activist Boniface Mwangi for posting their romantic photos online. The 2017 Starehe Constituency aspirant posted photos of Juliani and his lover Lillian Nganga having a good time.
Boniface Mwangi's action angered many social media users especially his caption. They accused him of celebrating Machakos Governor, Alfred Mutua's marital issues.
In his caption, Boniface appeared to insult the former government spokesperson. He told him that money does not make a man but manners do. He also said that money without good manners is like poison.
I'm here to offend those men who behave like their partners are personal assets.Assets are dead things,they have no feelings or emotions. Partners have flesh and blood, they can move on and you can do nothing about it. Money doesn't make a man, manners do.Pesa bila tabia ni sumu. pic.twitter.com/JLqPKjSlMn

— Boniface Mwangi (@bonifacemwangi) October 16, 2021
These are not statements that Dr. Mutua and his fans will take lightly. That is why they have all been on the activist's case since yesterday when the post went live. They have forced Boniface Mwangi to do follow up posts to tell off those cyber bullying him.
Lillian Nganga and Alfred Mutua separated recently after staying married since 2013. But it shocked Kenyans to learn that she moved on swiftly with Juliani.
The funny thing is that Juliani rarely posts his photos with Lillian. In fact, Boniface Mwangi has been posting Juliani's photos with Lillian more than the love birds themselves.
ALSO READ:
1: Agnes Tirop's Father Vincent Tirop Reveals What Ibrahim Did to Her While She Was in High School
2: Kabi WaJesus Exposed Again by His Baby Mama Who's Also His Cousin
3. Lilian Ng'ang'a Tough Questions To Mike Sonko After His Comments
When Juliani realized the photos were causing a lot of heat, he wrote to Boniface blasting him for posting the romantic pictures.
"My friend Boniface Mwangi, I love you. I know you mean well, but it would have been proper if you informed us before posting those photos," wrote Juliani.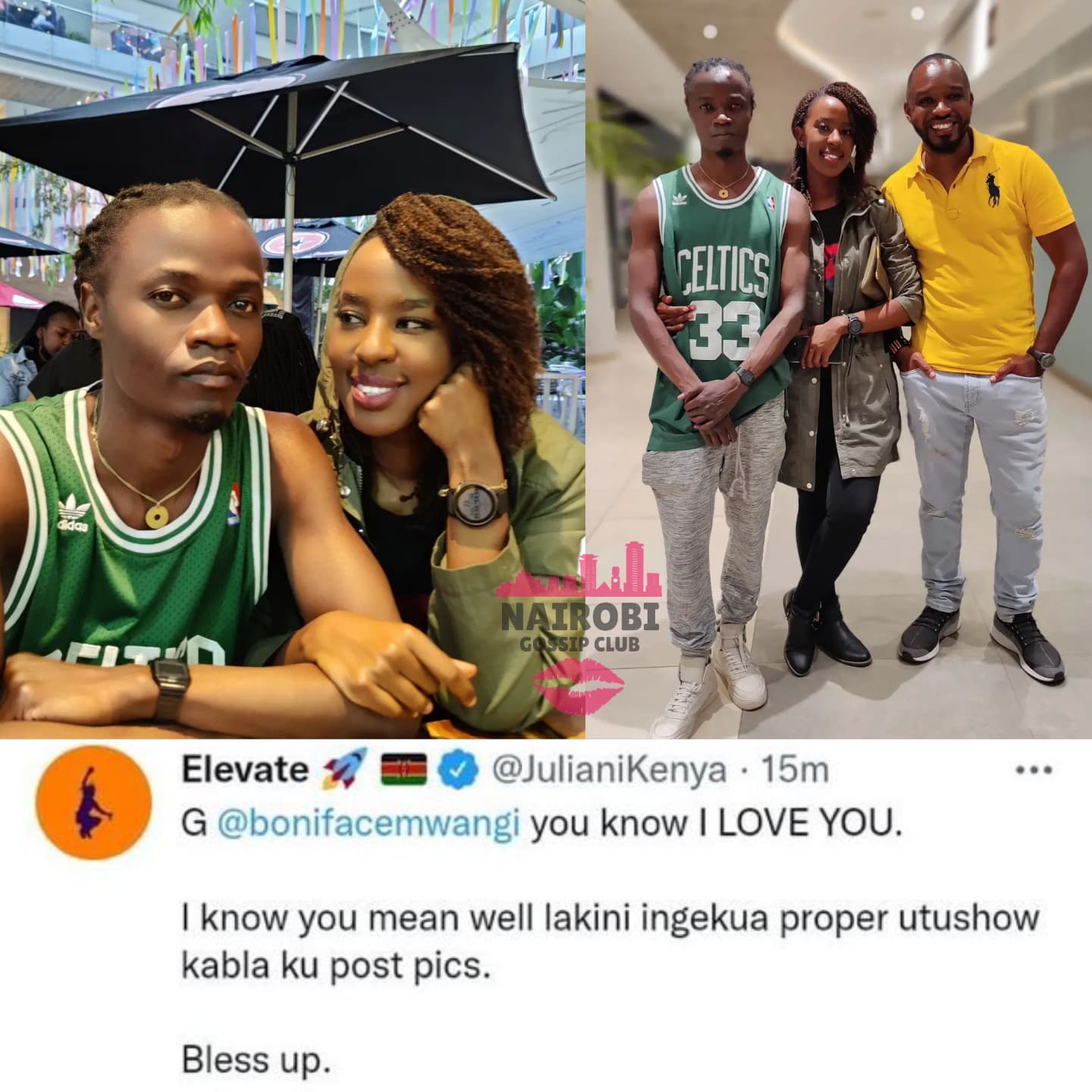 The 'Pages za Bible' hit maker realized he had hanged Boniface to dry, and he deleted the post. Many social media users thought Juliani was only playing reverse psychology. The whole thing could have been stage managed.
Former Nairobi Governor Mike Sonko wrote to Boniface earlier warning him that by posting photos of the two lovebirds, he was only endangering Juliani's life. This did not go well with Lillian who urged Sonko to withdraw that statement immediately.