Eddie Ndichu married media personality Janet Mbugua in a colourful wedding in 2015. Their marriage looked like a perfect one until recently when things went haywire. Janet dumped Eddie Ndichu after several cheating scandals.
The former Citizen TV anchor no longer wears her beautiful wedding ring. She also deleted all their photos from her social media handles.
It turns out Eddie is also a very violent man. Over the weekend, he was involved in an ugly fight at Nairobi's Ole Sereni Hotel.
Eddie and his twin brother Paul Ndichu were having drinks at Ole Sereni's rooftop section. They then spotted two ladies and a man having a good time at a nearby table.
That is when Eddie decided to hit on one of the girls. The beautiful lady rejected his advances telling him that he should stick to Janet. He did not take it lightly and he became violent.
Little did he know that the man chilling out with the ladies was his crush's boyfriend. The other lady was also her sister. Eddie tried to strangle the lady in the boyfriend's presence. They caused a hideous scene at the hotel's reception.
ALSO READ:
1: Agnes Tirop's Father Vincent Tirop Reveals What Ibrahim Did to Her While She Was in High School
2: Juliani Blasts Boniface Mwangi for Posting Their Romantic Photos Online
3. Drama as Xtian Dela Club Santorini Collapses and is Auctioned
A staff member who works at the hotel took a video and shared it with blogger Edgar Obare. In the video, Eddie's brother Paul was seen breaking the side mirror of the guy's car.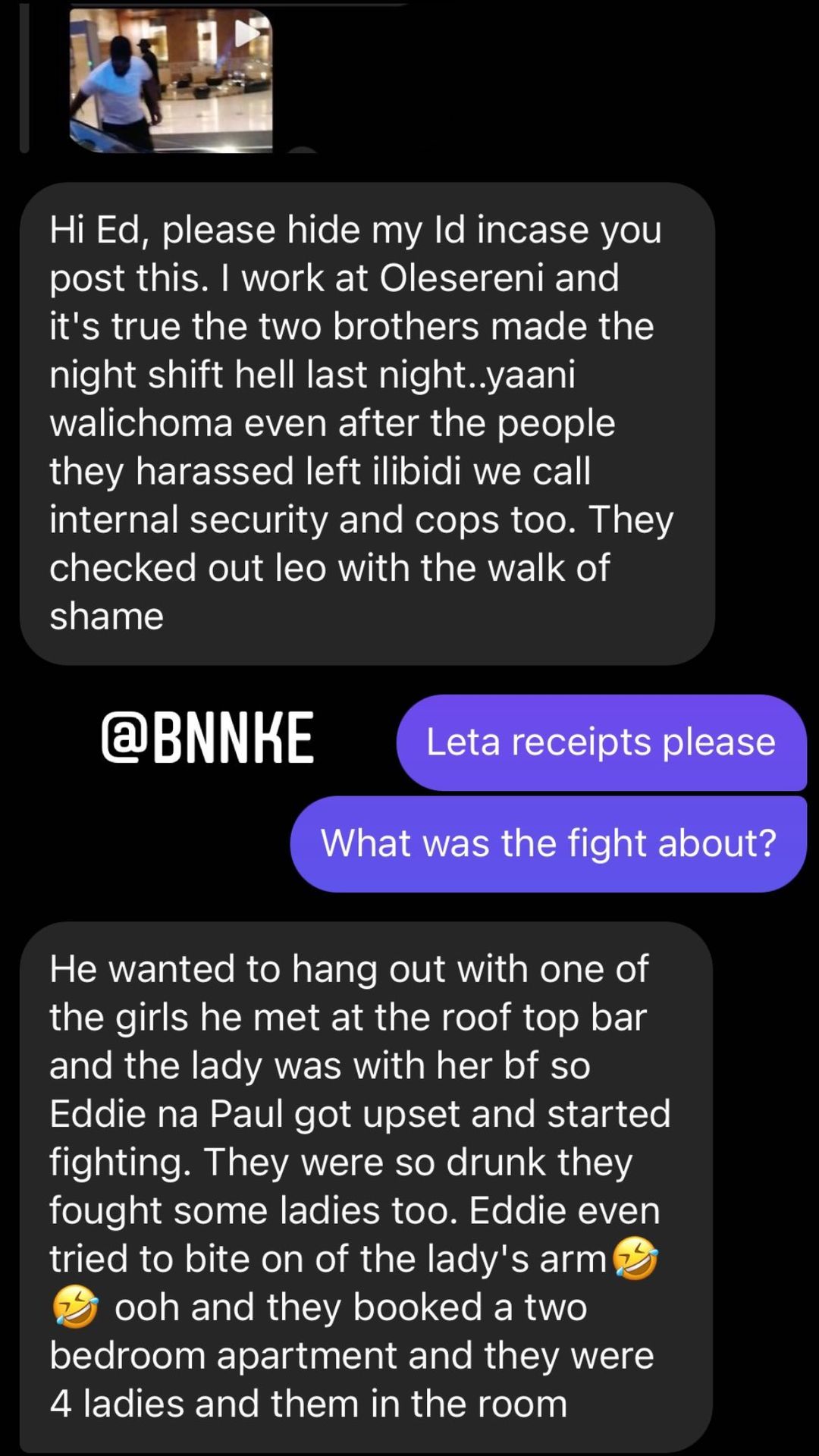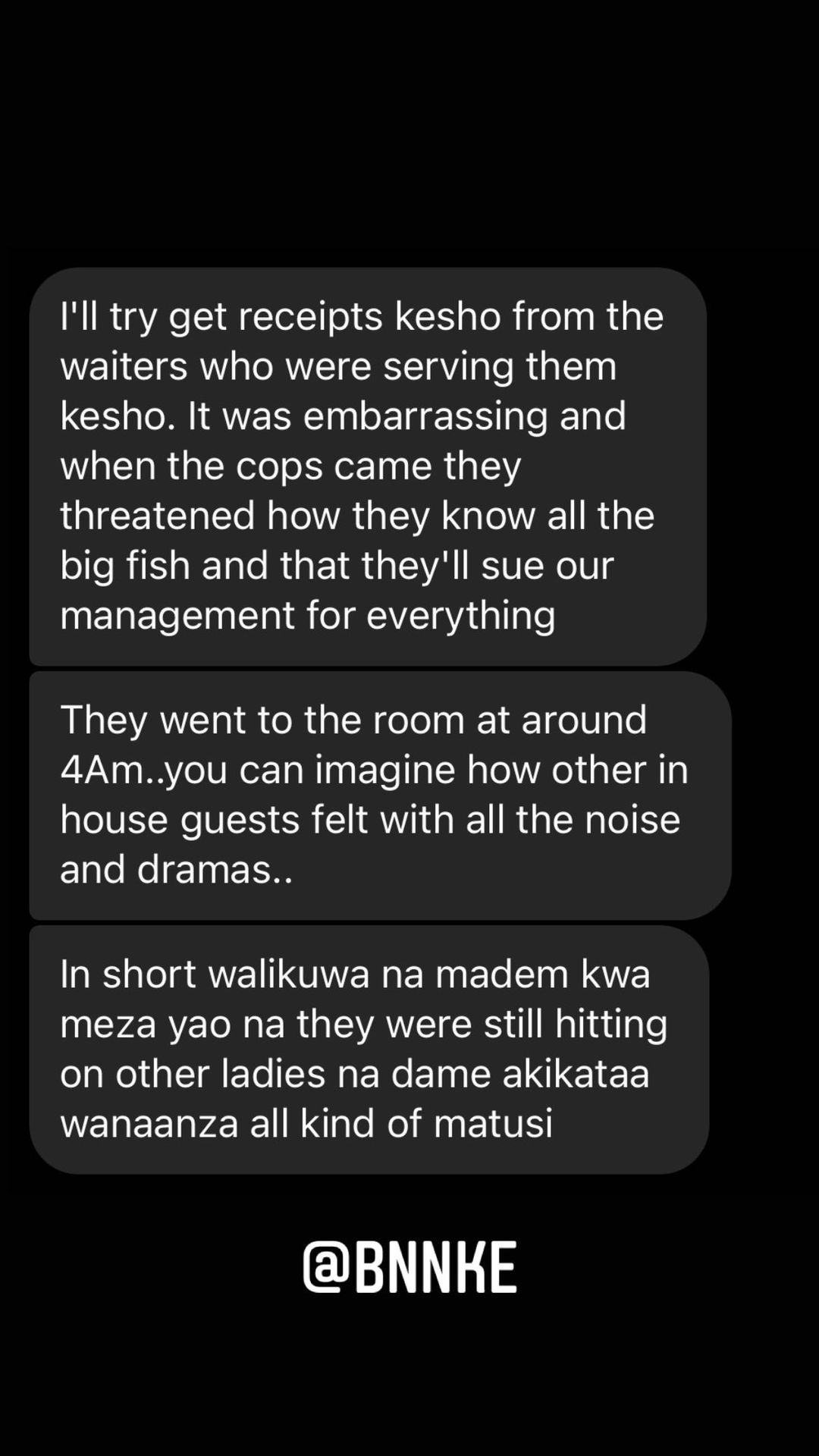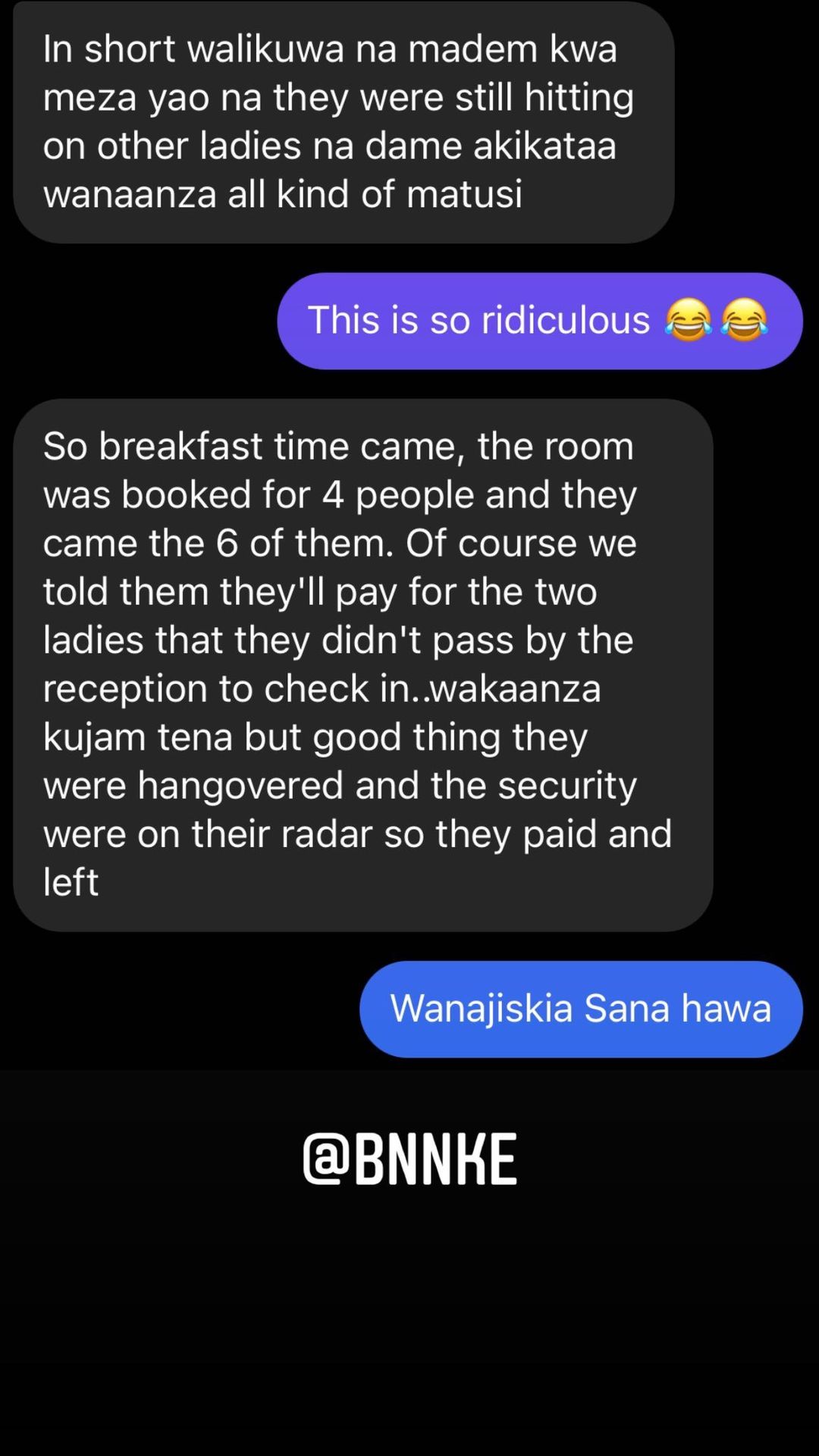 It was a very shameless show from the brothers. How can a grown up man choke a woman because they have rejected their advances? How can a grown up man vandalize another man's car for trying to protect their woman?
According to the staff member who sought anonymity, they settled the case and Eddie agreed to pay for the broken side mirror. They settled for KES 110K which Eddie sent via Mpesa. After leaving the scene, he shamelessly reversed the transaction.
The twin brothers must be having a hard time living as single men. Paul Ndichu and his wife Maureen Momanyi are living separately. This is judging from their IG profiles. These are two men on the hunt. But being violent after rejection from a stranger is not only childish but also unacceptable.