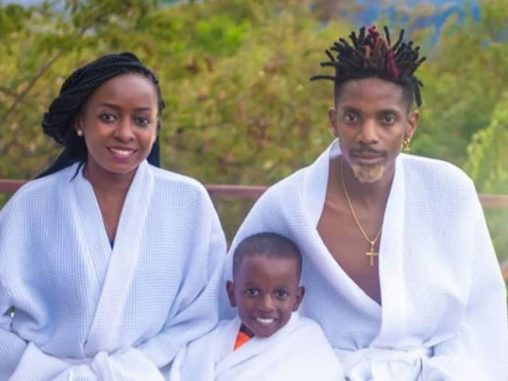 Beautiful media personality Jacque Maribe and comedian Eric Omondi have a son together. The boy is now seven years old.
According to the former Citizen TV news reporter and anchor, Eric has been missing in action since their son Zahari was born. That is why she called him out recently when he revealed he had impregnated Miss P.
Eric had posted a photo posing with heavily pregnant Miss P and promised to take responsibility. He said that he met the beautiful lady five months ago, and they hooked up.
The part where he said that he will take responsibility rubbed Jacque Maribe the wrong way. She posted a comment and tagged her sister mocking the former Churchill comedian. The comment was so sarcastic that it attracted over 3400 likes.
Fans mocked Eric after that serious comment. Popular YouTuber Eve Mungai looked for Eric and gave him a chance to clear the air. That is when they called Jacque and put her on loud speaker.
Miss Maribe asked Eric some tough questions which he could not answer. The guy does not even know where his own son goes to school.
ALSO READ:
1: "I'm Stepping Down, But My Soul remains In UDA." Powerful Senator Allied To Ruto Quits Politics.
2: Azziad Nasenya Roasted for Calling Kenya a 'Ghetto'
3. Never Mock God; what is happening to Pastor Nganga of Neno Evangelism
"Do you even know where we live? Do you know where your own son goes to school? You have been missing in Zahari's life for a long time," Jacque challenged Eric.
Eric embarrassingly said that he knows they live in Kileleshwa and that they moved houses recently. He did not sound very sure about being in his son's life. Eric somehow admitted liability.
But the saga could be a clout chasing stunt. Firstly, Miss P's pregnancy is fake. When they took photos about two weeks ago, her tummy was flat. Suddenly, she is heavily pregnant. The photo was clearly photo-shopped.
The comedian is a social media genius. He knows how to keep the spotlight on himself continuously. Those who listened carefully to Jacque Maribe could tell something. That was not the voice of a mother talking to a deadbeat father. She sounded relaxed and happy.