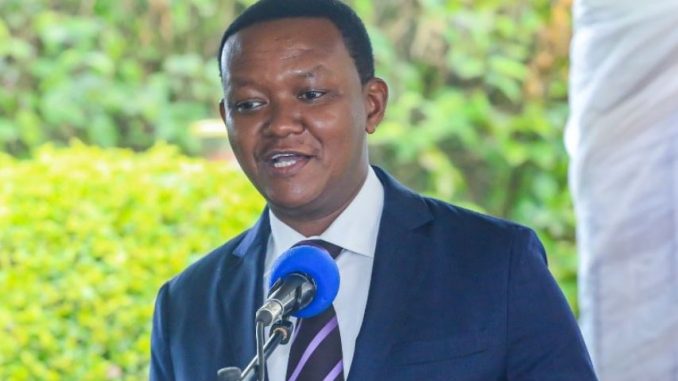 Machakos Governor Dr. Alfred Mutua has chosen to maintain a brave face after his much publicized breakup with his wife Lillian Nganga. Even his statement about their separation was so toned down with technical and euphemistic terms like "disengage" instead of "separate or break up".
The good governor has had to endure a lot of ridicule from social media users. Many of them are wondering how a man of his stature can be dumped by a woman.
The rumor about rapper Juliani replacing him as Lillian's lover has not made matters any better. As it stands now, everything that has been said is pegged on speculation.
In an effort to show Kenyans that everything is normal in his life right now, Dr. Mutua has announced a lavish birthday party to be held on Sunday 22nd August 2021. High flying Tanzanian singer Rayvanny will be performing at the event.
An excited Mutua said that he shares a birthday with the Wasafi Records music star and that is why he chose him to headline the party.
READ ALSO: "How My Company Ended Alfred Mutua's Marriage," Private Detective Jane Mugo Spills the Beans
"Sunday, August 22nd, is my birthday and also the birthday of Rayvanny – We have decided to hold a special double birthday party for a few people on Sunday afternoon. Please get your free ticket and join us for food and music," wrote Alfred Mutua in a highly interactive Facebook post.
The post has attracted several reactions from netizens who have left very hilarious comments. Here are some of them;
Sammy Ondimu Ngare said, "Si mrembo ajitokeze tu achukue huyu msingle governor."
Anwar Saddat remarked, "Daktari, when you get past 35, your birthday shouldn't be comparable to sweet 16 Party. If you are important like you are, use your birthday to impact others. Hizi tabia za Slay Kings wachana nayo."
Ibrahim Kithinji Mungathia commented, "My president happy birthday in advance God blessings always be with you and devine protection as you grow old, how i wish next year as you celebrate your birthday you be celebrating your victory (AMEN)"
Kelvin Kaburu quipped, "Juliani should also be invited. I like his performance and lyrics."