Edgar Obare is a very controversial blogger who has earned himself the title, 'Tea Master', thanks to his social media exposés. His ardent followers always send him tips on what is happening in the lives of many celebrities. The last thing a Kenyan celebrity wants is to trend on Edgar Obare's Instagram stories.
The popularity of his IG account made him to introduce market days on his platform. During such days, small business people can advertise anything as long as they pay a small fee of between KES 1000-1500. Of late he has also been posting missing persons in form of such Ads.
One of his most recent posts was about a Form two boy by the name Samwel Fketcher. The young man who is a student at Jamuhuri had disappeared from his home and his family was very concerned.
According to the Tea Master's post, the boy had last been seen on Saturday going about his day to day businesses at the 'Two Rivers Shopping Mall' in Nairobi. That means that he did not have any contact with his family for three straight days. No calls, no text messages, no nothing. Any parent or sibling would be concerned.
It turns out that Edgar is well connected because it is through his platform that the boy got to be rescued. His sister wrote a message to the blogger thanking him for the post that led to Samwel's rescue.
"Hey Edgar, my brother has been found in Thika. This post did it for us. We got a call. Thank you so much," wrote the sister.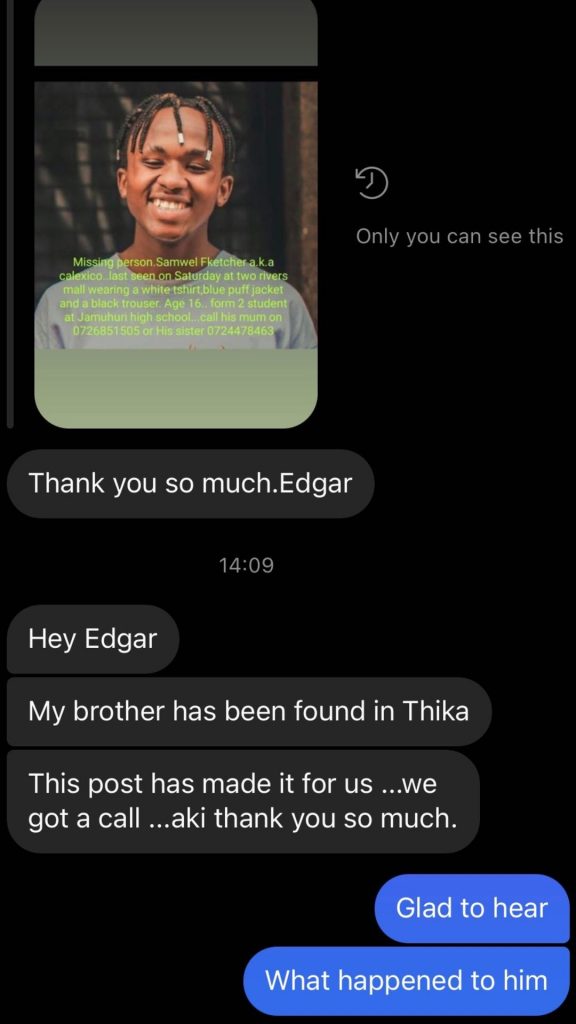 Just like any curious Kenyan, Edgar demanded to know what had happened to the boy. It turns out that he was locked up by a close friend of his called Pappi. Pappi's phone got lost and Samwel was the last person to use it. He then treated him as the chief suspect and so he confiscated his phone and locked him up.
See more details on the screenshot below;