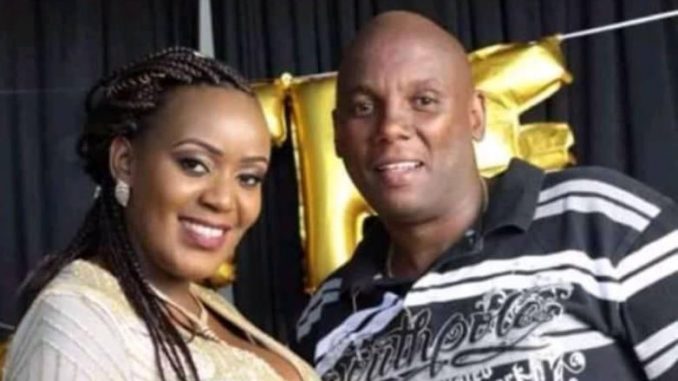 Sadness engulfed Kiambu County when a 42-year-old businessman by the name of Jonathan Mukundi Gachunga shot his wife 0f 10 years Philomena Njeri in the head, killing her instantly. He then went ahead to kill himself too by turning the gun on himself.
Kiambu Police Station cops visited the scene after being notified by Mukundi's friend Robert Charango Njuguna. Robert had tried to call his friend Mukundi but he was not picking his calls.
That is when he became suspicious and made a report at Kiambu Police Station which is a few meters from Mukundi's home.
His unusual step of rushing to make a report at the police station has been questioned by some social media users. How often do you make police reports when a friend fails to pick your calls?
The investigators were not able to immediately establish the motive behind the senseless action by Mukundi to kill his wife and take his own life. But what normally drives men towards killing their spouses?
It must have been a love triangle or something to do with cheating. Men don't take it well when they discover that another man is having a good time with their partner(s).
Mukundi is said to be impotent after undergoing vasectomy as a form of family planning in his first marriage to a white woman. Mukundi sired two kids with the Belgian woman who was filthy rich but divorced him years later.
Also Read: Her Mother Warned Her; Surprising Details of Philomena Njeri's Last Days Alive
Mukundi felt used and depressed when the woman divorced him after undergoing a vasectomy. The businessman relocated to Kenya and set up a business in Mombasa Road selling motor Vehicle spare parts.
He met Philomena Njeri when she was only 21 years of age. Mukundi never told her that he had been sterilized and cannot impregnate a woman. Njeri become anxious and impatient when years went by without becoming pregnant.
Mukundi was abnormally relaxed and unbothered by their barrenness which is odd given how men pressurize their women to get pregnant when in marriage.
Determined to become pregnant and be a mother, she started an affair with one of her workers who eventually got her pregnant but it was the beginning of her end.
When Mukundi realized that she was pregnant for another man and she had planned to move out with him after setting up a business for him, that is when he killed her in cold blood while asleep in their palatial home.