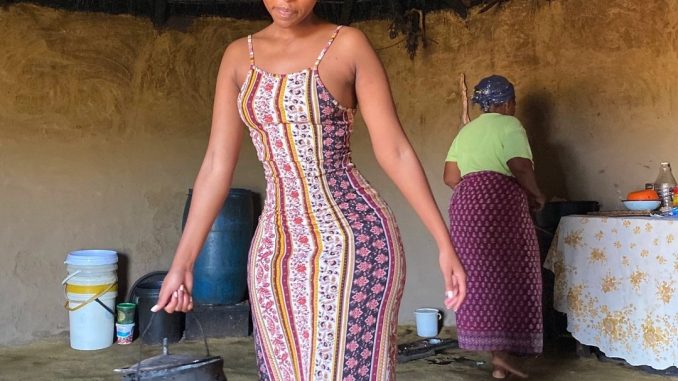 A stunningly beautiful young South African woman by the name Lungelo Mpangase has sparked Twitter frenzy. This is after posting a photo of herself cooking. What drew people's attention was her pride in cooking with firewood.
It is very difficult to come across such women in South Africa nowadays. Those available are the proud slay queens that want to find things on a silver platter.
Most people do not share such things because they are afraid of receiving negative feedback. The social media streets are not very kind. Social media users keep judging people unfairly based on what they have or what they don't have.
"I can't wait to announce supper is ready to someone's son," she said in her hilarious caption.
Essentially, she was emphasizing how much it would mean to her to have a husband to cook for. People have different goals.  And it is uncommon for someone like her to be honest about her background.
I can't wait to "Sekulungile Ukudla Baba" someone's son🥺😊.. pic.twitter.com/O9ZUwrYQWm

— Lungelo Mpangase (@LungelMpangase) September 3, 2021
Reactions from netizens
Some individuals were curious to find out whether she was single or not.  They obviously would like to be a part of her life in that sense. More people's reactions may be found further down;
"It shouldn't be reserved solely for men. Why not your children, parents, and so on? Don't convey the idea to the men that you exist solely to please them," reacted one Twitter user called Mopedi Motalatala.
Lerato Mphagi reacted by saying, "Does it have to be a man man, oooor? Asking for a friend."
Does it have to be a man man, oooor? Asking for a friend pic.twitter.com/hOIVvbciQw

— Lerato_Mphagi (@Lerato_Ashler) September 3, 2021
Another one quipped, "You such a lovely African lady, May God bless you with an equally lovely man in mind."
Nelson remarked, "Be careful for what you wish for. Most men out here are mentally and emotionally broken. They intend to exercise their pain on their woman. Just saying our country needs love more than anything.
READ ALSO: