Otile brown is a talented singer who has grown in leaps and bounds. He is currently dating a lady from Ethiopia.
He once told his interviewer how he can be in a long distance relationship with a beautiful lady in this current world.
Otile brown said that he can do anything to remain faithful to her because he loves Nabayet including self pleasure.
"Tunanyonga tu!" says the narrator. Utafanya nini sasa utafanya nini sasa utafanya Amasema, keep doing what you're doing.
Nikimsubiri na anasupport, mnyongo huo. Otile confessed, "Anajua with that now, at least boy awoke nimetulia."
However, in a fast retort, Nabbi stated she had no objections to Otile's conduct, stating that Nairobi would be her first stop once flights resumed.
Nabayet also revealed that they had tried to split up many times because of their long distance relationship, but they always end up rekindling their love.
Long-distance travel is the most difficult thing I've ever done. I used to preach that long-distance travel should be avoided at all costs.
But, whether the circumstance is difficult, when you form a link with someone, you simply have to fight for it.
We tried so many times to call it quits. People will constantly come up with excuses for why we aren't together, such as they broke up or someone cheated on us, but that has never been the case.
You tire fighting occasionally, but if the link is powerful enough will always find a way," Nabayet says.
The dry spell is killing Otile Brown, and he doesn't seem to wait much longer for Nabayet.
Otile Brown in a rare incident was seen clutching to a woman's behind in public while trying to hide his face.
"Hata ukificha sura,hiyo kisogo yako tumeizoea".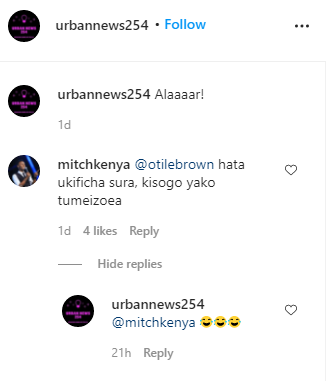 View this post on Instagram
ALSO READ: