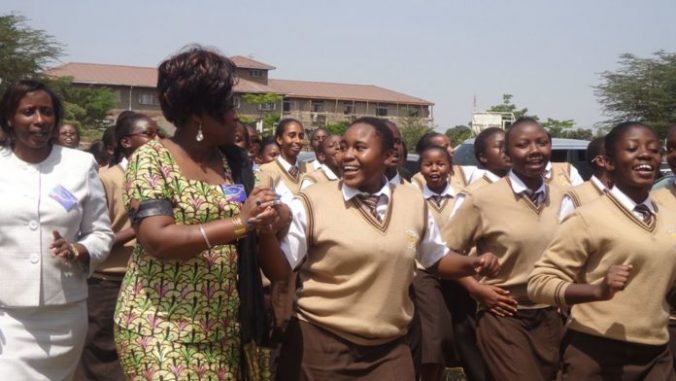 Buruburu girls high school in Nairobi is having an emergency after fire broke out razing down a dormitory.
Terrifying videos shared online shows several females, said to be students at the school, scrambling to flee.
The Buruburu girls were seen trying to flee the blazing building through the windows disturbingly by jumping.
The cause of the fire has yet to be determined, although preliminary investigations place the blame squarely on an electrical issue.
It happened on Sunday afternoon, completely engulfing a multi-story dormitory.
It drove students in that multi-story dormitory into a frenzy which has resulted in many casualties.
Meanwhile, according to several sources, a fire engine arrived at the school minutes after the event to help put out the fire.
Buruburu Girls Rushed to Hospital
According to the Standard, they brought an unconfirmed number of students to the nearby Metropolitan Hospital.
The school administration has yet to issue a statement to assuage the fears of parents whose children attend that institution.
They have recorded no fatalities because of serious burns, but the horrific footage show girls jumping from a story dormitory is a cause for concern.
READ ALSO:
1: Sauti Sol's Bien Reveals Edith Kimani's Secret Desire For This Type Of Men
2: Former President Mwai Kibaki Misses Funeral Of His Brother
3: Larry Madowo Dating Edith Kimani? This Photo Speaks Volumes.
This is because of panic and lack of preparedness to respond to an emergency like that to save their lives.
The incident must have resulted in multiple fractures because it is difficult to leap from that height and avoid a fracture.
A stampede is another scary possibility that could cause fatalities because of the girls' panic.
We are still following the story and will keep you updated on any fresh developments.
We urge all relatives and parents with children attending that school to contact the school administration.
This will assure them of the safety of their children.