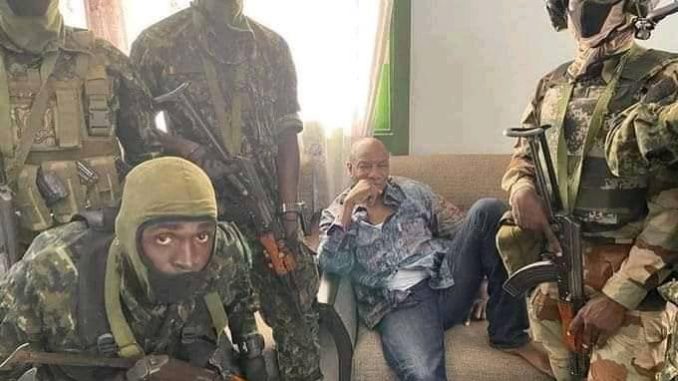 The military has overthrown the president of Guinea.
President Alpha Conde changed the constitution to serve a third term.
His re-election marred with violence and the opposition accuse him of disregarding the rule of law.
As it is the case in many West African countries, the Military announced they will form a transitional government.
The 83-year-old incumbent president Alpha Conde is under arrest. Colonel Mamady Doumbouya has taken command and declared it on national television.
Footage of military vehicles patrolling Conakry's streets appeared on social media.
One military source stated that the lone bridge connecting the mainland to the Kaloum district is closed.
On Sunday morning, heavy shooting erupted outside the presidential palace in Conakry.
An elite national army unit led by Mamady Doumbouya, a former French legionnaire, caused various sources claiming that the violence.
Two convoys of armored vehicles and pickup trucks headed towards Conakry Autonomous Port, which is also close to the palace.
More to follow….
What Is Happening At The Grave of TB Joshua
Temitope Balogun Joshua, popularly known as TB Joshua, was a charismatic Nigerian pastor, televangelist, and philanthropist.
He was the pastor and founder of Synagogue, Church of All Nations, a Christian mega church that operates the Lagos-based Emmanuel TV television channel.
When Prophet TB Joshua died, the news stunned many people. His death was unexpected.
Those close to him claimed he wasn't truly ill at the time of his death because he had done a service that afternoon and appeared to be in wonderful health.
Until today, it has remained unknown what caused his death.TB created and led the Synagogue Church of All Nations.
He founded the ministry roughly 30 years ago and has since enlarged it to where members from over 150 countries fly in for services and to visit TB Joshua.