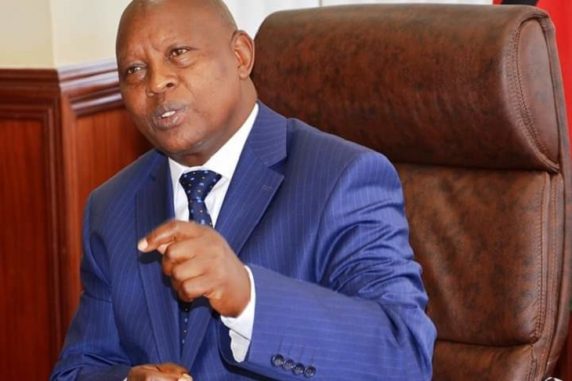 Mutahi Kahiga is on the spot for how he attacked Raila's style of politics in Nyeri.
Different political players and supporters have slammed him for disrespecting the former prime minister.
Mutahi Kahiga has, however, received a lot of support from UDA supporters and politicians for his boldness.
According to the people supporting William Ruto, governor Mutahi Kahiga is the leader Mount Kenya needs right now.
They applaud him for telling Raila to his face that nobody in mount Kenya is interested in his storytelling.
They don't want to hear history and past political events. According to Kahiga, Mount Kenya wants to hear about his economic and political agenda to their residents.
"Tafadhali msidanganywe na maneno ya historia… 
It is not time to talk about history; it is time to talk about where we are going.
Tunataka tuongee maneno ambayo yanawafurahisha wananchi," said Kahiga.
Most Kenyans feel it was unnecessary to attack Raila like that in public.
Raila and many other leaders quickly reminded him that history is important in-order to avoid making the past mistakes.
"Ni mpaka tujue tumetoka wapi, tuko wapi na tunaelekea wapi.
Kama hujui kule unaenda, barabara zote zitakupeleka huko. 
Hatutaki kurudia makosa ambayo tumefanya hapo mwanzo ndiposa tuliungana na Uhuru na kuzungumza ili kuikomboa Kenya," said Odinga.
"Wewe Governor Kahiga ni Rafiki yangu; mambo ya historia ni lazima tusome.
Kama hujui historia basi utakuwa mjinga miaka yote. Ni lazima historia isomwe ndio tujue tumetoka wapi kama Kenya," Kamanda stated.
"Hio maneno ya historia ambayo tumeambiwa hapa siku ya leo… you (Raila) are on the record;
wewe do umepigania democracy katika nchi ya Kenya, wewe ndio umejitolea mpaka tukakua na new constitution," Sabina Chege said.
For a country to move forward, Kenyans must understand where they came from and where they need to be.
Raila Odinga is in Nyeri county to merge his support after meeting the youth groups, women and business people.
The former prime minister will have a series of rallies in Nyeri, and he is gaining momentum in the mountain.