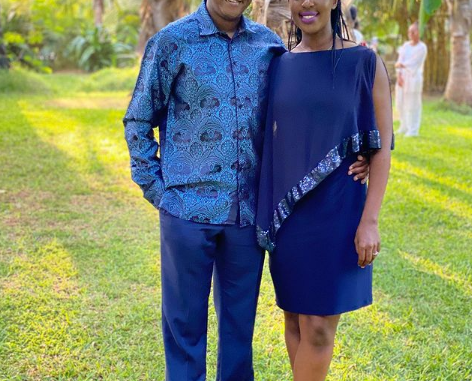 Machakos Governor Alfred Mutua is single again after his beautiful wife Lillian Ng'ang'a decided to end their marriage. The two have been married for a decade after Mutua divorced his first wife called DR. Josephine Thitu.
Mutua and Josephine have three kids but he was yet to sire kids with Lillian Ng'anga'. She is the current first lady in Machakos county but she has officially resigned from that position after she stopped being the wife of the governor.
In a statement sent through her official social media accounts, the beautiful lady revealed that they mutually decided to end the relationship two months ago but they will still remain to be friends.
Lillian further revealed that she decided to dump Mutua because the winds of change blew her way and she decided that she badly needed that change to make herself happy after staying with Mutua for years.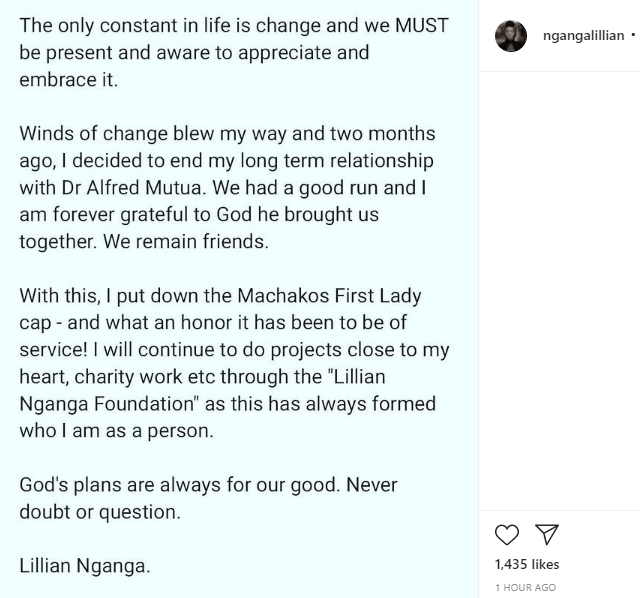 Rumors have it that their marital problems started when a lady exposed him in Edgar Obare's Instagram stories that she was pregnant for him.
Dessy Oduor Achieng released screenshots of her conversation with the governor after Mutua stopped picking her calls when she demanded 250k to get rid of the pregnancy.
Edgar and Dessy Oduor Achieng were arrested by the police and charged for extortion but the lady later recanted her statement saying that she had never met the governor in life and was only hired by Edgar Obare to frame him for clout.
Also Read: Eye Witness Reveals That the Kitengela Cousins Were Killed By People They Knew and Not Mob Justice
She literally threw Edgar under the bus for a few coins when she is the one that came up with that story to Edgar. Dessy might have been threatened by the police  to recant her statement when she might have been right all along.
Alfred Mutua has also confirmed that they have indeed decided to end their union of 10 years.
"There is a song by Roger Whittaker that has the line: "the first time we said hello, we started to say goodbye."
Lillian and I have been a blessing to each other. Two months ago, we decided to slowly disengage. We are on amicable terms and remain very close as friends. We will continue to talk, meet and share ideas constantly.
Lillian has been an excellent First Lady and even though she will do some projects under the Lillian Nganga foundation, we have agreed she can continue with her county projects.
She will be a close advisor as I Govern Machakos County and run for President because I trust her sharp insight and heart. She has always been my number one fan. Our love for each other is permanent but I think at times, space and new directions are important.
I thank God for bringing Lillian into my life and the many ways we have made each other grow. We have had a laugh and at times a tear but all in all we have been a power couple and very happy. We celebrate life and are pleased that we have reached this decision in a mature, agreeable manner.
I am a happy and blessed man and we have agreed we will protect and support each other."
Also Read: Popular Kisii Urban Music Artist Babu Gee Weds His Long Term Girlfriend in Colorful Wedding (PHOTOS)