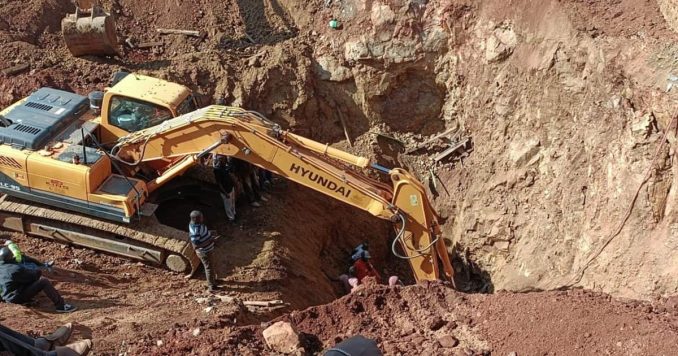 Gold mining is a serious economic activity in parts of Luo Nyanza and western region.
The activity has a lot of of economic returns, but it comes with other problems.
Some problems are of health in nature and others accidental.
Accidents bury Gold miners alive, but that has never been an issue when young men in those villages decide to take up those jobs.
Health conditions include pneumoconiosis and increased propensity to lung cancer because of the heavy metal poisoning and inhalation.
For the past 6 days, the mines trapped gold miners in Abimbo, Bondo subcounty in Siaya county.
This happened after the mines caved in. The county government and other volunteers have been trying to rescue them.
By yesterday evening, the families of the trapped men had already lost their patience.
The slow nature of the rescue efforts were being delivered was emotionally draining.
They appealed to the national government to intervene and to save the lives of their loved ones.
They felt the equipment used in rescue operations was not sophisticated enough .
The families wanted more expertise from the military and other professionals to help with the operation.
This morning though, Bondo deputy commissioner, Mr. Richard Karani says they rescued 3 minors at 2AM.
They rushed them to Bondo subcounty hospital in critical condition for emergency treatment.
The rescue team retrieved one body from the gold mine ruins. They are still looking for one more person before they can close the operation.
5 trapped men have been surviving on oxygen for the last 6 days without food, but they have been in constant communication using sounds.
The Bondo deputy county commissioner has reassured the family of the one man that has yet to be found that they will continue looking for him .
They will only close the rescue mission at the gold mine after accounting for everyone that was in the mines that caved in.