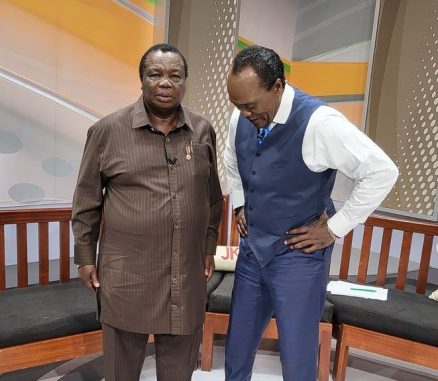 On Wednesday, October 20, COTU Secretary General Francis Atwoli talked to Citizen TV news presenter Jeff Koinange. He told him to brace himself for gloomy days if Deputy President William Ruto wins the president in 2022.
According to Francis Atwoli, his closeness with President Uhuru Kenyatta and other authorities opposed to Ruto will make him an obvious target for the DP in case he assumes office. The outspoken trade unionist was speaking in an interview on Jeff Koinange Live.
"What happened to your security, Jeff? You're going to have an issue. Are you not connected to Uhuru Kenyatta?" Atwoli questioned Jeff in an interview that has gone viral.
Francis Atwoli warned Jeff Koinange
Atwoli also told Jeff that he will be the first person to be jailed because of his connections with people like opposed to William Ruto.
He scared him how he will have to answer a lot of questions before he can hire a lawyer to bail him out.
In addition, Atwoli warned that if Kenyans elect Ruto, he will smash and shut down Koinange's businesses in Kenya and South Africa.
ALSO READ:
1: "You Tried to Kill Juliani and Lillian!" Boniface Mwangi Exposes Alfred Mutua
2: Agnes Tirop's Family Reveals the Evil Thing Her Killer Husband Did While She Was at Olympics
3. Former Tottenham Star Victor Wanyama and Girlfriend Serah Teshna Announce Their Baby
"I am familiar with Kenyan political dynamics. I have seen popular leaders fail to become President. People will vote in large numbers in 2022," said the flamboyant COTU leader.
Jeff Koinange and President Uhuru Kenyatta have known each other for a long time. Kenyans on Twitter recently criticized he deep voiced TV anchor and presenter. This was after he hosted the president on his JKL live Show from New York City.
Many were of the opinion that the interview focused primarily on Uhuru's role as President of the United Nations Security Council. The seasoned journalist would have also asked questions about pressing national issues such as the security crisis in Laikipia county.
The ever-increasing fuel prices, the early campaigns and total disregard of the Covid-19 containment measures by politicians, and the border dispute with Somalia were other areas he should have tacked.