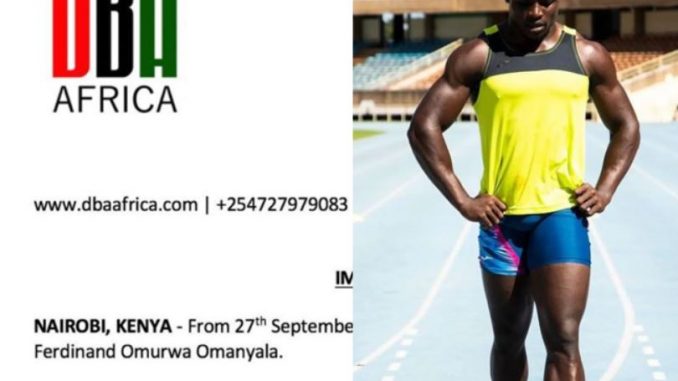 Ferdinand Omanyala is currently a household name in Kenya. This is after his sterling performance at the Kip Keino Classic athletics tournament. He clocked an African record time of 9.77 seconds in 100 meters.
The record made Ferdinand Omurwa Omanyala the 8th fastest man in the world as at now. The soft-spoken University of Nairobi graduate shot into the limelight during the Tokyo Olympics. During the preliminaries, he ran faster than Yohan  Blake.
He will soon break Usain Bolt's record of 9.58 seconds in 100 meters. But there is a problem. His management, DBA Africa has pulled out.
DBA Africa is a sports management company that has managed many athletics stars. They assisted Ferdinand Omanyala to take part in many competitions across Africa. Participation in local and some international competitions allowed the 25-year-old sprinter to take part in the Tokyo Olympics.
The main reason they parted ways with him is because they don't share similar values. However, it is not rocket science to know that money must have been involved.
Being under management means that a sports person allows a company to take care of their finances. This includes negotiating and signing of contracts that involve money.
ODI Bet deal
Recently, ODI Bet sponsored him. They even gave him a brand new Toyota Harrier valued at about KES 3.5 million. It is not clear whether they involved his management in the deal.
Another thing that the management controls is media appearances and interviews. It is the management that is supposed to decide on whether and when to attend a radio/TV interview.
From the look of things, Omanyala has been attending interviews too frequently accompanied by his beautiful wife. Some Kenyans have been quick to note that he is too available and that he talks too much about his personal life.
Maybe he should learn from legends like Eliud Kipchoge who is strictly under management. Jos Hermens's Company, Global Sports Communications manages Eliud. The marathoner has minimized his availability for media interviews despite being hugely successful.
READ ALSO: Facebook to disable Whatsapp In These 43 Types Of Smart Phones