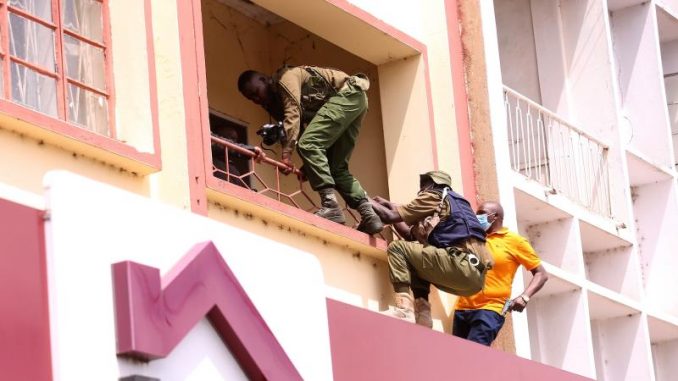 Equity bank robbery treated Kenyans to a money heist drama. Robbers stormed the Equity bank and attempted to still money.
The police officers who swiftly responded to the emergency with precession thwarted their efforts.
There was a shootout and lobbying of teargas canisters in the bank. Vast crowds gathered to witness the operation which replicated an action movie.
The operation at Equity bank lasted for almost 2 hours. The police made several arrests and nobody knows whether the individuals who are in the police custody are among the criminals.
This disappointed Kenyans, but from preliminary investigations and assessment of the CCTV footage in the bank, the robbers escaped.
They were 4 men that were escorted out by the police just like other customers.
CCTV footage revealed that some thieves may have been in the building as early as 9 a.m. before hitting at 11 a.m., according to a Daily Nation story.
One criminal changed his clothes before fleeing with the other customers, according to CCTV footage. It's unclear whether the crooks were successful in stealing anything from the bank.
The robbers did not have guns. They used a large spanner to scare the bank staff to open money safe. They packed bands of cash in polythene bags, but they left the money behind when the assault by the police was too hot to handle.
Kenyans have this bad habit of crowding areas of police operation that makes it difficult to carry out a security operation.
They put their lives in danger just to catch every moment, which is dangerous and unnecessary. The police found a hard time trying to control the crowd and pursue the criminals.