If you travel regularly to the Nyanza Region of Kenya using public service vehicles (PSVs), then you must know Ena Coach. The public transport company has many buses and shuttles that serve people who travel to and from Kisii, Homa Bay, Migori, Kisumu etc.
Many of their clients have always whined on social media for what they term as poor customer service. Their customer care agents have always been accused of being rude and 'uncaring' to the needs of their clients.
One of their customers sent a message to blogger Rober Alai on Facebook complaining about how he was mistreated today. The client had booked a 6.35am shuttle which was supposed to take them to Nairobi. On reaching the booking office ready to travel at 6.02am, not even the office attendant had arrived at the office.
If indeed there was a bus or shuttle that was to take off at that time, then one should expect the booking office to be open at least before 6.30am. That was not the case. The office lady strolled in at 7.45am, more than an hour after the stipulated time of takeoff.
READ ALSO: Is The CBC Education System a Punishment To Parents? Here Is Why Grade 1 Is Trending Online
"I reached their office at exactly 6:02am and I was shocked to see that there was no attendant who had arrived. This forced me to just stand out in the cold up to 7:45am when the lady showed up but that is not my main issue.
Upon enquiring on why the shuttle was late, she simply gave me the customer care head office number to talk to," narrates the disgruntled client.
The customer care agent from the head office was rude as she did not want to attend to the customer well. It was after several attempts that she was frank and told them that they had to make the ticket open since they cannot refund the money.
This was very inconveniencing because the client in question had to attend a seminar in Nairobi before 1 pm. Here is a screenshot of the post;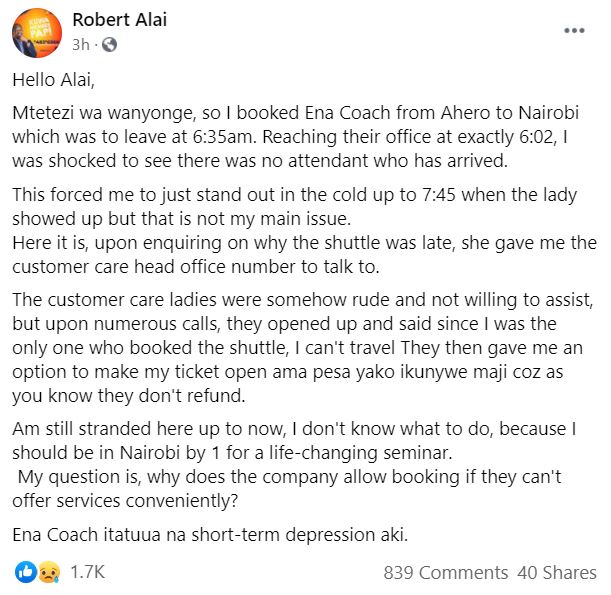 Have you ever been inconvenienced the same way before? Let us know about your experience with PSVs before in the comment section below.