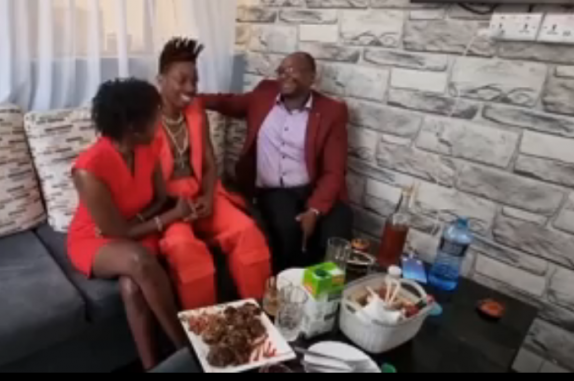 Jackie Maribe and Erick Omondi have finally reconciled after a few days of fireworks.
Their reconciliation was mediated by Simon Kabu of Bonfire Adventures.
The rich business man hosted them for a meal and they could iron out their issues.
From a video posted by Simon Kabu, we saw the couple holding each other and having fun with matching outfits.
Jackie Maribe sounded incoherent and drunk as they were having a conversation over a sumptuous meal.
Jackie Maribe has been fighting with Erick Omondi over the paternity of their son.
The whole saga went out of hand when Erick Omondi posted on social media about Miss p's pregnancy.
According to Erick, he is the one responsible for the pregnancy of the beautiful singer.
Well, it turns out that Erick was just bluffing to get the attention of Kenyans to boast his new song featuring Miss P.
Jackie did not get the joke and mocked Erick Omondi for being absent in her son's life.
The comedian did not take that lying down and came at her, guns blazing. He raised doubts about Jackie's son.
Erick wants to do a DNA to be sure that he is the father of Jackie Maribe's son.
This is because he only had a one-night stand with her after a party. They had protected sex, but she surprised him with pregnancy news.
Erick believes Citizen Tv's political reporter Sam Ogina might the father of Jackie Maribe's son.
This is because they were dating at the time he had an encounter with Jackie Maribe.
Sam Ogina has already responded to the whole saga. He warned Erick against dragging him into his childish games.
Sam is a married man and has threatened to leak Erick 's compromising photos. He has been sending his beautiful wife, Njeri.
According to Sam Ogina, Erick has been hitting on his wife and he has never accepted that she chose him over Erick.