Every year there is an inferno that happens in the Gikomba market. The cause of the fire is usually linked to electricity faults but no one has ever imagined that there could be foul play in the whole saga.
Burning down the market has huge implications because of the millions of shillings worth of merchandise that is destroyed in that market.
There is no proper security and organization in the market and it makes it very hard for the government to contain the fire when it breaks out.
Strange enough, the fire usually happens at night when everybody is asleep. Imagine waking up and you find your sole source of livelihood has been razed down to ashes. That is so heartbreaking.
A section of online users in the country has questioned whether UDA has anything to do with the fire that brought down a section of the Gikomba market.
This is after one of the officials narrated how she was not able to find any help from the deputy president when she sought it from his office because all the exports through sea and air had been banned at the height of the Corona Virus pandemic.
The help did not come and they were forced to seek it from the former prime minister Raila Odinga and President Uhuru Kenyatta who came in handy for them during those tough times.
Also Read: It Is Official: Messi Finally Leaves Barcelona After He Failed To Renew His Contract
The point she was making is that is was angered whenever she sees Ruto and his team lying to Kenyans that they are the ones who will help the hustlers and uplift them but when an opportunity arises for him to come through for them, he disappears into thin air.
This could be a bad coincident or could be a plan by people who hate UDA and want to bring them down by portraying them as violent criminals who are peddling lies to capture power but it could also be an electric fault.
Others have openly suggested that UDA might be the ones causing fire so that they come back to help the fellow hustlers to rebuild their businesses after the inferno for political mileage.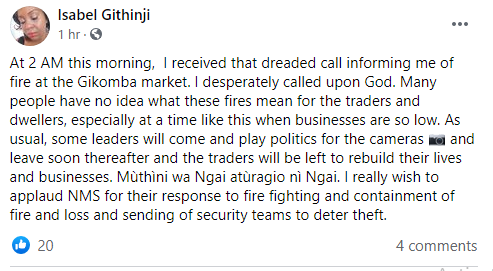 It is up to the detectives to unravel the real cause of the inferno that has caused losses to thousands of hustlers