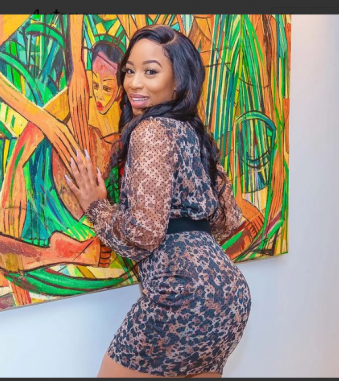 Diana Bahati is trending this morning after revealing her hidden talent. For the longest time, Diana Bahati has been a vlogger,model and a mother.
Nobody really knows that she is actually rap. Last night, she made a debut in one of her husband's shows.
She did well for a rookie, driving the crowd crazy. A section of Kenyans felt inspired by her confidence and self belief.
Others, however, felt that she was being driven by the urge to make money other than her talents.
After the show, she spoke to reporters touching mainly about her music journey and why she decided to finally showcase her hidden talent.
Her fans got worried because it means she might stop vlogging to concentrate on her music, but she promised to continue doing both.
Here some comments from Kenyans;
"Please, Diana, stick to your blogging business music is not your thing leave it to your husband,
And please change your advisor is misleading you. I rest my case".
Yunis Wanja said, "Siku hizi talent iko sexually transmitted 
nangojea simiti,mawe ni nayo "
So this is the music we are supposed to support
,, mimi niaje kuenda kuimba reagge nikuje hapa,, you guys joke too much
6 Family Members In Migori Mysteriously Go Blind
Migori family of six from Uriri constituency is in shock after being blind suddenly.
George Omondi, a survivor and family member, stated that his family members went to bed on Friday feeling ok but awoke on Monday unable to see.
He further revealed that the strange ailment afflicted his wife and four of her children under the age of 24.
"When my wife and I went to bed on Friday night, we were all in good health."
"On Saturday morning, I learned my entire family had gone blind," Omondi told Nation.
The father also mentioned that a nephew who was living with the family died mysteriously after turning blind.
CLICK HERE TO CONTINUE READING>>>>>>