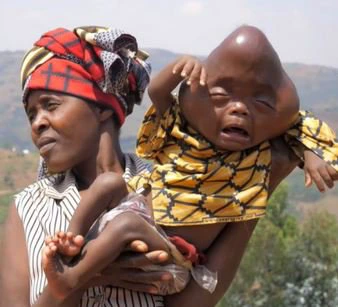 Deformed Newborn Son
Deformed newborn son has brought shame and disappointment to a Rwandese family.
The boy was born with a rare condition that has now become the talk of the town.
His head is severely deformed and his father could not withstand the humiliation from villagers.
He walked out on his newborn son and his mother in the hospital and instructed his wife to kill him.
The woman goes by the name Bajaneza Liberata. She has other kids that are physically and mentally sound.
Well-wishers helped Liberata to pay her hospital bills and transport her home.
People in the village have been mocking the family because of their deformity.
Liberata has since moved to the village leaving behind her other children unattended.
She decided to go back to the village to seek help from traditional healers.
Her husband has abandoned her because he thinks that she has brought shame to his family.
The deformed boy is suffering from a genetic condition called anencephaly.
Also Read: Zodwa Wabantu Is Controversially Encouraging HIV Stigma
A fundraiser they put up to help her might not help her because of the nature of the condition.
This is because research hasn't been able to come up with the best remedy for such conditions.
There are so many cases of that nature in our midst is wrong because anybody who sires can go through the same.
Public Health Education
Public health education is needed to teach people about this type of rare genetic condition.
The social stigma attached to this type of condition is damaging the quality of life for other family members.
They fear mingling freely with other people for the simple reason that they might be mocked.
It is financially and emotionally draining for families who have kids with deformities.
You can be sure that Liberata's deformed newborn son will have mental retardation and poor physical growth.