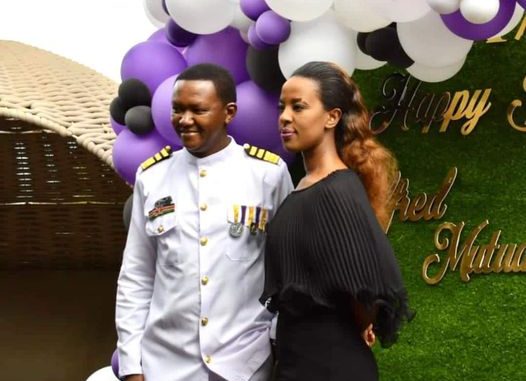 Machakos Governor Alfred Mutua is currently hosting Rayvanny and other guests at Olesereni for a celebration party of his birthday.
Mutua is turning 51 today and he coincidentally shares a birthday with Tanzanian sensation Rayvanny.
The party comes barely a week after he announced that they had agreed to go separate ways after 10 years of marriage.
The power couple did not give any specific reason for their break-up but Lillian simply said that she wanted fresh air and to try new things in life.
Speculations were rife among Kenyans who think that Lillian was cheating on him with rapper Juliani because they had been seen together on several occasions.
Lillian resigned from her position as the Machakos county first lady but reported that her foundation activities will go on uninterrupted.
The governor promised to continue funding her activities. She will remain his advisor as to the Governor because of her intellect and sharp eye when it comes to politics and governance.
Also Read: "Wacha Ushamba", Robert Alai Blasts Diana Marua After She said This About Her Dead Grandmother
People wondered if for real they will remain, good friends, as they promised and their first challenge was to see if she will attend his birthday party.
In an interview at Radio Jambo, Governor Mutua was non-committal when he was asked if his Ex-wife was attending the party.
Well, those doubts have been cleared because Lillian is currently attending that party and she looked beautiful in her outfit as usual.
Even though the two looked awkward, the most important thing is that she attended that party. That was mature from Lillian because it has never been seen anywhere that couples split and get on very well especially when your man is doing well.
This has made a section of Kenyans question whether their breakup was for real or publicity seeking stunt to hype their party that is being attended by Rayvanny.