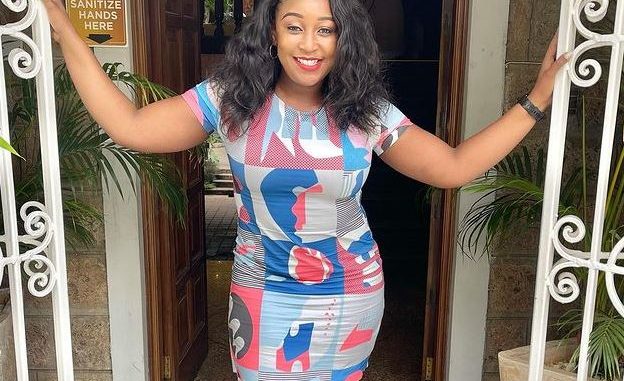 Sassy media personality Betty Kyallo loves being on the spotlight. The 32-year-old mother of one hit the airwaves recently when she went public about her romantic relationship with Nick Ndeda.
But as usual, Kenyans will not leave any stone unturned. A nosy Kenyan unearthed some information that must have sent chills down the spine of Betty; that Nick Ndeda is still technically married to Jack Atonga and that they have two kids between them.
The Kamba beauty put on a brave face and dismissed the revelations with contempt. It looks like that was not the end of torments from unforgiving netizens towards Mama Ivanah.
A video of Betty passionately kissing another man has surfaced online. The lady appears drunk but as usual, she is having the time of her life.
The guy that she is having a good time with is identified as Herman Kimani who is said to be her sponsor. In the video, they were jamming to Nigerian artist Omah Lay's song 'Lo Lo' when they decided to have a French kiss. After all life is short.
READ ALSO: Sudi Reveals How Uhuru Humiliated Ruto At The Airport And Blocked Him From Travelling To Uganda
Herman is really moneyed. During blogger Xtian Dela's much talked about 'Club COVID' live sessions, he could tip twerking girls up to KES 10000 like it was pocket change. Sometimes he could spend close to KES 50000 within minutes tipping performer at Club COVID.
Even though the video surfaced today, the time when it was taken cannot be ascertained. However, Betty's current man will definitely not like it.
The former KTN and K24 TV anchor has had her fair share of heartbreaks when it comes to relationships. Her marriage with Dennis Okari hit a snag a few years ago when she jumped into an illicit affair with Mombasa County Governor Ali Hassan Joho.
A story is told how she left her matrimonial home as if she was going out for shopping only for her not to return back to Dennis. It is in the public domain that her fling with the charismatic governor did not end well.
Click HERE To See the Video of Betty French Kissing Herman