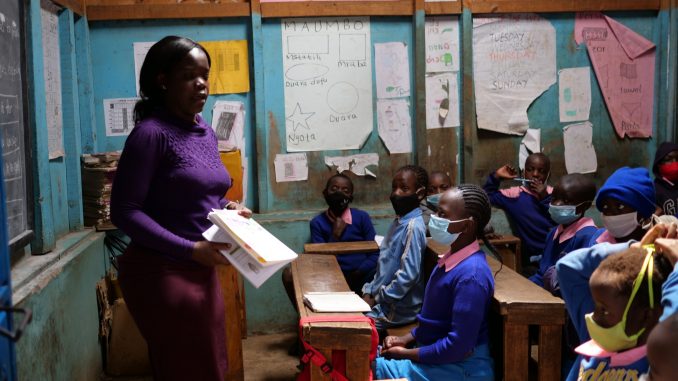 CBC (Competence-based curriculum) is the new curriculum that is currently being implemented in Kenya.
Most Kenyans and stakeholders think Kenya is not ready to take up that kind of curriculum because expensive to implement.
The stakeholders feel that the government is not ready in terms of infrastructure and training of teachers for CBC to work.
There is a case pending in court that seeks to challenge the legality of the viability of CBC in Kenya.
The Ministry of education, has insisted that they will not scrap the curriculum and will go-ahead to implement it.
Kenya feels CBC is not good for our children but other people have fallen in love with CBC and want to learn from us.
Next year, America will dispatch a section of teachers to Kenya and Tanzania for a five-week benchmarking program.
Northern Illinois University (NIU) will send 14 teachers to the two East African countries to learn about the native languages.
This includes Swahili, as well as the problems of teaching in Africa.
The 14 tutors will benefit from the university's Educate Global program, which was revealed early today.
Seven of the 14 will be undergraduate teacher candidates and seven will be graduate students who are currently teaching.
They will learn about the obstacles and partaking in educational activities.
ALSO READ:
1: Willis Raburu EX-Wife Ready To Re-Marry, Advice Women To Have Many Partners
2: Woman fakes kidnapping , Demands Ransom From Husband
The American instructors will try to comprehend African social cohesion and how racism affects the United States.
James Cohen, a member of the College of Education faculty, pushed American teachers to broaden their horizons.
They will consider how race affects US residents, reflect on themselves differently as cultural and racial beings, and seize the opportunity to grow.
In Kenya and Tanzania, the teachers will connect with non-governmental organizations (NGOs) and meet local leaders .
They will learn more about the culture and traditions of the people.
Teresa Wasonga advised American teachers to gain firsthand experience with African culture and issues, as well as how they may benefit from them.
Jane Adeny Memorial School, one of the host sites for the American instructors, will be one of them.
The secondary school is an all-girls boarding secondary school.