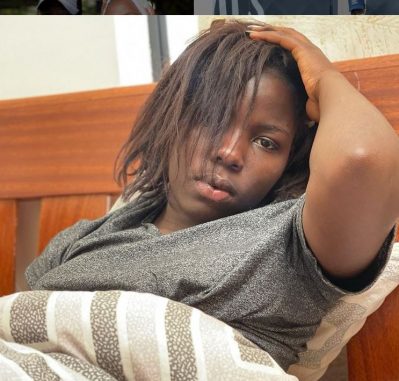 Cartoon Comedian (real name Vanessa Akinyi) is one of the fastest rising comedy sensations in Kenya. The 21-year-old started her craft on Churchill Show. But her breakthrough came during the COVID-19 pandemic period.
Her short skits went viral on the internet. Some of her phrases like "inaniaffect, inanichoke, inaninyonga" became street slang as Kenyans embraced her comedy.
Cartoon Comedian was born in Nairobi's harsh Kayole neighborhood. She knows how to grab any slight opportunity. She took advantage of her viral videos to deliver more content through her social media handles.
The comedienne now has a huge team behind her, and they keep releasing crazy and hilarious content. As a creative, sometimes one can go overboard and do controversial content. That is what exactly happened to Cartoon yesterday.
She posted a short skit mimicking a girl called Matilda that is complaining about mistreatment from her employers. In the skit, she acts as if she is doing a live video showing the people in Kenya how tough life is wherever she is.
She then opens the refrigerator to show them how there is no food, only to find another girl inside. The girl in the refrigerator is also doing a video complaining how she is forced by her employers to drink water from the toilet bowl.
READ ALSO:
1. Revealed: The Exact Reason Why Agnes Tirop Was Killed By Her Husband Ibrahim Kipleting
2. Corazon Kwamboka Breaking Up With Frankie Just Gym It?
3. Nakuru Tycoon's Late Son Daniel Mahinda Mwangi Left This Emotional Suicide Note
Vanessa then opens one of the kitchen cabinets to show her audience how dirty the place is. Here she finds another Kenyan complaining how they are not given food and how his passport was confiscated.
After some public outcry about the insensitive nature of the skit, Cartoon Comedian deleted the video from her social media accounts. But some Kenyans had already downloaded it. Have a look at the clip below that was posted on BNNKE's IG page (>>>SWIPE LEFT);
Some netizens found it very disrespectful. Others, however, thought it was a good way of educating the masses. She just delivered it through the art she knows best.