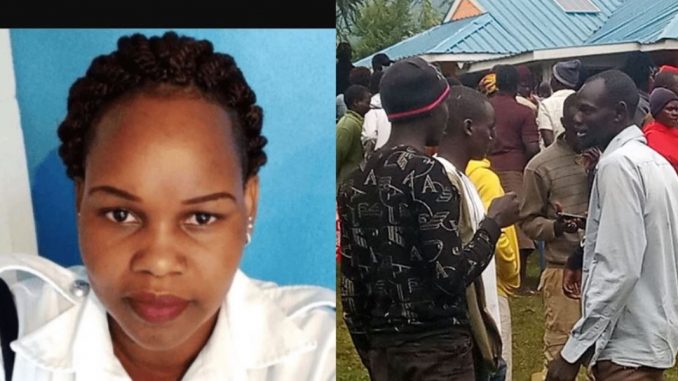 The police will not be sending off their colleague as it is the norm for the members of the police service. According to the family spokesperson Robert Kipkorir who is the uncle of the deceased, they have completed the burial plans after they were given the green light to bury her.
This is after the government pathologist Johansen Odour did a postmortem on her body at the Moi Teaching and Referral Hospital in Eldoret.
The pathologist found out that Caroline Kangogo had a single gunshot wound to her head that moved from the chin, up the skull and through her brain causing instant death due to severe traumatic brain injury and massive hemorrhage.
Johansen Oduor however could not conclusively say that it was suicide or murder because the impact must have been close which means suicide or shot at close range.
The Directorate of Criminal Investigation (DCI) has taken more samples from her for forensic examination to ascertain the real cause of her death.
READ ALSO: Girl With 401 Marks Kicked Out Of County Scholarship Program Due To Tribe; Forced To Repeat Class 8
Her Victims have already been buried in low key burial ceremonies with Police Constable John Ogweno accorded a police send off like it is in the norm in the police force for all officers dying the line of duty.
For police to miss the burial ceremony of their colleague means that she is regarded a villain rather than a hero in her line of work. This is double tragedy to her parents because children are a source of pride to their parents.
Her family is set to bury her today and they are going to bury her normally without involving the police like any other civilian. They are however not going to cremate her body contrary to wishes as inscribed in her suicide note that was retrieved from her phone.
Cases of police officers ending their lives are on the rise and the government has to come up with ways of curbing these deaths by enhancing better working conditions and paying attention to their mental health.
Caroline lives behind two kids who are under the care of their father. He is a senior police officer at the Maritini Police Station in Mombasa.