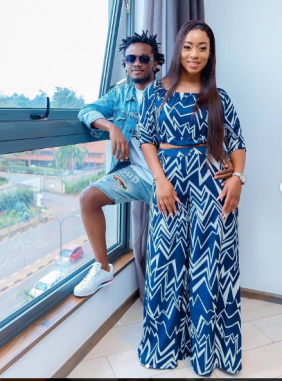 Bahati's wife Diana celebrated her 32nd birthday over the weekend.
Her husband threw her a surprise glamorous-only invite party.
They themed the party white, and a few close friends, family, and fellow celebrities attended.
Diana Marwa did not disappoint as she dressed elegantly, and she looked stunning and happy.
She showed off her dancing skills that caused some controversy on social media.
She was twerking and rubbing her husband seductively, but what amused Kenyans is the choice of song she was dancing to.
Singer Ringtone performed in a red rope that is usually worn by priests or bishops in various denominations.
They also surprised ringtone to see Bahati and his wife dancing seductively to a gospel song.
Kenyans were quick to castigate them for showing disrespect to God by doing ungodly things that night.
Another video from that party has emerged showing Bahati's friend getting overboard with his generosity.
He outdid Bahati and gifted his wife, Diana Marwa, with a brand new iPhone 13 and hundred thousand shillings on top of everything.
The iPhone 13 is currently retailing at about 200 thousand shillings. So the guy spent a cool 300k on another man's wife in one night.
Kevin Bahati did not take it lightly, and he demanded the man to give him the gift so that he can hand it over to his wife.
The invited guests burst into laughter and compelled Diana Marwa to give a warm hug to the man that gifted her that expensive gift.
It was fun with a lot of banter here and there and people had some quality time celebrating Diana's birthday.

ALSO READ:
1: Supreme Court Makes a Major Announcement on BBI Appeal
2: Meet The Soldier Who Killed Osama bin Laden, Why USA Fired Him After The Mission
3: Diana Bahati Dance Style Raises Eyebrows At Her Birthday Party