Felix Odiwour is known for his philanthropic nature and he has a foundation that looks at every needy case before they swing into action to bail them out.
Odiwour commonly known as Jalang'o came from a humble background having spent his earlier years in Homabay town though his parents are originally from Siaya County.
He came to Nairobi as a shamba boy to his uncle but he later decided to try his hand in an industrial area looking for odd jobs but God had other plans for the man.
He is now of the richest celebrities with businesses and a radio job that pays him very well. It is with this background that Jalang'o has a soft eye for the vulnerable in society.
If you have a problem and you manage to get his attention, you are assured that he will come through for you. There is this young man called vincent Mboya that was captured on camera carrying a placard in the streets of Nairobi that wanted Jalang'o and his cohost at Kiss 100 radio, Kamene Goro to pay his rent for three months because he risked being thrown out.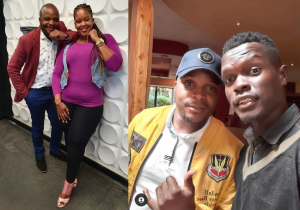 It was strange for him to ask for that kind of help but with social media and his power, he luckily got the attention of the comedian. Jalang'o cleared all his rent but advised him to work hard instead of looking for sympathy from strangers.
"Your rent has been paid. Call your caretaker to confirm it. But you should stop looking for sympathy, go out there and work," said Jalang'o.
The ungrateful man who was almost being thrown out from his apartment fired back at Jalang'o for belittling him in public. He promised to pay back his money once he gets a job.
Also Read: Mukundi's Friend Makes This Controversial Request To Women On His Burial
"I was so disappointed. I was so upset by that part. I'm grateful that he helped me, but I don't think the "work your a** off" part was necessary," said Mboya in an interview with one of Eve Mungai's YouTube hosts. "Sometimes people look down on you because you got nothing. I don't have a problem with him, but when things work out for me as God has planned, I will refund his money," added Mboya.
"I'm advising him as his small brother. He is getting into politics and he should avoid curse words. He should be humble as he will engage a lot of people in his course," said Mboya.
People don't understand why he reacted so when in fact he asked for that help in public without thinking that people might judge him and all of a sudden his ego now tells him that the comedian ashamed him.
Vincent Mboya was speaking to Eve Mungai on her you tube channel.