The directorate of criminal investigations has apprehended the 40year old man that is believed to have masterminded the brutal murder of innocent young men because they looked like thieves.
Benson Melonyie Ole Mungai was arrested from his hideout in Kitengela town after forensic investigations pointed to him as the main suspect.
The DCI is in hot pursuit of the other suspects that participated in the killing of the four innocent men in cold blood and burning their motorbikes.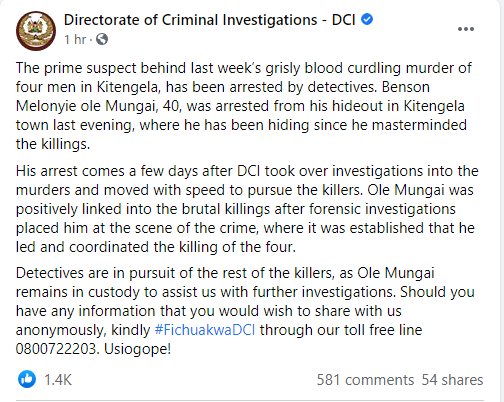 Two brothers Fred Mureithi and Victor Mwangi who were 30 years and 25 respectively were brutally murdered along with two of their cousins in Kitengela after the perpetrators mistook them for being cattle rustlers.
Also Read: Mike Sonko Releases The Video Of A Man That Snatched Alfred Mutua's Wife And His Advice Is Priceless
They were surrounded by a dozen of armed Maasai men and mercilessly beat them to death. They pled for their lives and begged those men to spare them but they were determined to take the lives of the innocent young men.
The 4 men had attended a housewarming part in their aunt's house and a birthday party of Victor Mwangi who had just turned 25. They decided to to a nearby market center in Kisaju to buy chicken to prepare for supper.
On their way to Kisaju at around 6 pm on their motorbikes, they made a stop near a riverbank in the Enkamulyat area which is more than ten kilometers from Kitengela Town.
some nosy residents saw the motorbikes packed near the riverbank and raised alarm because they thought they belonged to cattle rustlers. The young men were surrounded and mercilessly lynched despite begging for mercy and providing their tormentors with identification documents.
The sad thing is that the people that killed them knew them very well as per a statement made by one of the eyewitnesses.
"One guy even fired a shot using his firearm to scare the crowd away but they were determined to kill the innocent young men," said the guy that was quoted by the Nation.
All four guys had spear injuries in their heads. Some of the people that participated in their killing were well known to them. But they proceeded to lynch them yet they were unharmed and never retaliated.
Also read: This Surprising Detail about the Timing of Alfred Mutua and Lillian's Breakup Raises Questions
As if that was not enough, they burnt down their motorbikes and their identification documents. The single mother to the two brothers Fred and Victor was hospitalized after hearing the news of the death of her only children.
Lucy Wanjiru has since traveled to Kenya from the UK to arrange for the burial of her only sons on Friday 20th, August 2021, in Karamton, Nyandarua County.