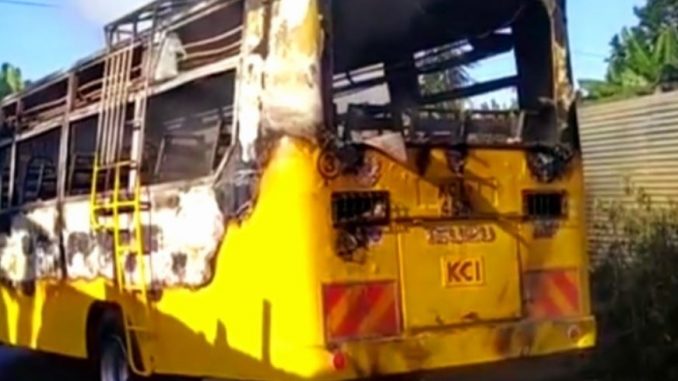 Boda boda operators are slowly becoming their own government. Every time they feel agitated, the results are never pleasant. There is nothing they cannot do; from burning vehicles to killing fellow motorists.
According to them, they do whatever they do to teach drivers a lesson. They believe that whenever an accident occurs between a rider and driver, the riders are looked down upon by police. That is why they administer 'instant justice' in the crudest ways.
That is what happened in Embu today. A school bus was torched after the driver allegedly knocked down and killed a boda boda rider. What is heartbreaking is that they waited until three quarters of the bus was burnt down.
Some Good Samaritans tried to put off the fire after the irate riders had left but the damage had already been done.
The riders forgot the bigger picture. Nobody plans an accident. But here is a simple piece of advice for motorists; if an accident ever happens between you and a boda boda person, don't stop until you see the nearest police station lest you join the dead in paradise.
READ ALSO: Kenyans Notice Something Weird after Alfred Mutua's Ex-Wife Attends His Birthday Party (PHOTO)
These guys are becoming too dangerous towards other road users and if they are not checked they will be a gang that will be so hard to control.
Have a look at the video below shared on the Citizen TV Facebook page;
It is a fact that everyone always condemns the boda boda guys because a majority of them are reckless on the road. But we should also think about the person who has lost a child, sibling, relative, and/or friend in this incident.
Maybe Insurance will pay for the bus, or a fund raiser will be done and money for the bus will be raised but the man that was killed by the bus driver will never come back. But this brings us back to the fact that no one gets out of their house planning to cause an accident. Responsibility is key.