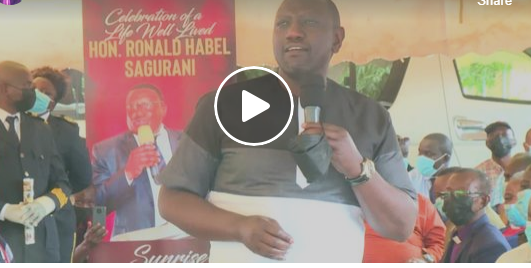 The Deputy President has responded to his boss publicly a day after President Uhuru Kenyatta challenged him to resign because he doesn't believe in his policies.
The president was speaking last night in an interview conducted by Citizen TV'S Francis Gachuri. The visibly frustrated president wondered why Ruto continues to speak from both sides of his mouth when he should be principled and do the honorable thing and resign.
"Naomba Msamaha kama nimekukosea lakini nimeamua sitarudi nyuma kwa msimamo wangu wa kutaka kubadilisha maisha ya mwananchi mdogo na sote ni sharti tuheshimu uamuzi wa mahakama".
The deputy president was speaking in Taita Taveta where he was attending a funeral for the Mahoo Ward member of county assembly Ronald Habel Sagurani who was being laid to rest today.

Former National movement resistance, General Miguna Miguna has warned the president that he has now fixed himself with what he said last night and he should ensure that nothing happens to William Ruto because should anything happen , he will be the number one suspect.
The Tanga Tanga brigade had earlier lied to Kenyans that the police had disrupted the funeral to stop the deputy president from attending the funeral in order to gain sympathy from Kenyans.
Also Read: Citizen TV's Trevor Ombija Spills the Beans about His Broken Relationship
President Uhuru Kenyatta is currently in Zambia after he attended the inauguration of their newly elected president Hakainde Hichilema.
President Hakainde Hichelema trounced the incumbent president Edgar Lunga but he has peacefully handed over power to the new incoming president.
This is a rare show of maturity and democracy in Africa because most of the incumbents cling to power by rigging the elections using state machinery and unleash terror on the perceived opposition supporters to force them into submission.
Kenyans hope that we can also emulate the show of maturity and political tolerance witnessed in Zambia as we head into the general elections in a few months' time.