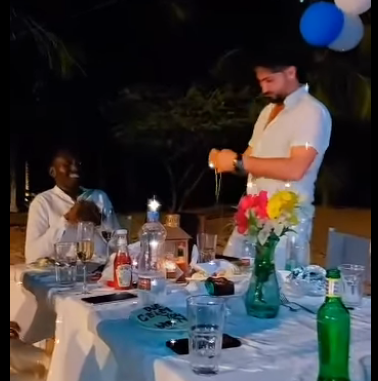 Gay people are finding it very difficult to have their space here in Kenya and in many parts of the world.
Being gay is becoming rather common, but people are afraid to come out and declare the sexual orientation.
This is precisely because of the social stigma attached to that.
According to many jurisdictions in the world, gayism is against God and natural rules of humanity.
Their kin often judge and disown people that indulge in that kind of life.
Kenya is one country where the considered vice is a sin and whoever we find guilty is an outcast in the society.
Parents and siblings find it difficult to accept and embrace their kids who announce that they are gay.
Nick Ruto is the son of the second most powerful man in Kenya. He is William Ruto's first son.
A video of him went viral when it was apparent that he was being engaged to a white man in a private ceremony.
It is rare to find a man gifting his male friend a necklace, then fit it on him.
What flabbergasted people is that the friends who were in attendance applauded the duo.
Kenyans made their conclusion that he is gay. This video has huge implications for his father's political aspirations.
This is because he has been fronting himself as a holy man of God who knows his bible and castigating his opponents as evil men.
This means that he will not use the bible and the church to woo voters anymore.
This is because his opponents will thrash his bible wielding rhetoric.
To save face and that of his family, Nick has addressed the video and has denied that he is gay.
ALSO READ:
1: "Diamond Makes Me Weak," Lilian Muli in Love With Simba
2: Obama's Amazing Gift To Pregnant Man Gay Rapper Lil Nas x