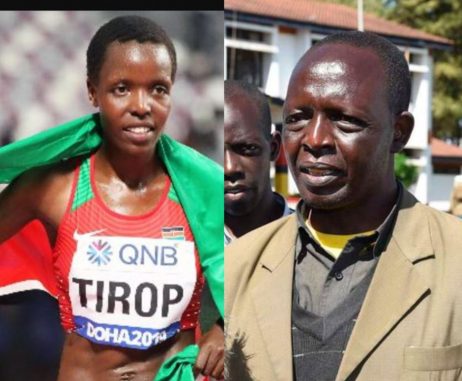 Vincent Tirop, the biological father to slain Olympic athlete, Agnes Tirop has come out to reveal some astonishing details about her troubled marriage. The two-time World Athletics 10000 metres bronze medalist was married to Ibrahim Kipleting Rotich alias Manu.
All major media houses across the world covered the story when they learnt of the bad news. Her husband is the chief suspect in the gruesome murder. After he did the heinous act, he called Agnes Tirop's folks and told them that he had done something bad.
DCI officers arrested Ibrahim in Mombasa after he attempted to flee to another country. Many people wondered how he expected to make it given the magnitude of the crime he had committed.
Agnes's Father Vincent Tirop told Citizen TV journalists that he never supported her marriage to Mr. Rotich. He revealed the guy started defiling his daughter while she was in high school.
Vincent Tirop says he stole her from school
When she was in Form Two, Ibrahim stole him from school and stayed with her for over six months. They had to report the matter to the police, but it worked against them. He had them arrested.
The old man was very bitter as he narrated how Ibrahim manipulated his daughter from a very young age. Had it not been for her extraordinary talent, he would have wasted her life. Ibrahim took advantage of Agnes's talent and forced her to buy property under his name.
ALSO READ:
1. Kabi WaJesus Exposed Again by His Baby Mama Who's Also His Cousin
2. Cartoon Comedian Forced To Delete This Insensitive Video about Kenyans Living in the Middle East
3. Nakuru Tycoon's Late Son Daniel Mahinda Mwangi Left This Emotional Suicide Note
Agnes Jebet's siblings also revealed how abusive her husband was. Her younger sister Everlyne Chepngetich witnessed Ibrahim physically assaulting her on several occasions.
By the time she met her death, the 25-year-old Tokyo Olympics star had seen enough. Many people believe she had gone to collect some of her personal things on the fateful day.
Meanwhile, burial arrangements are currently ongoing. Her family and friends will lay her to rest in Nandi County.