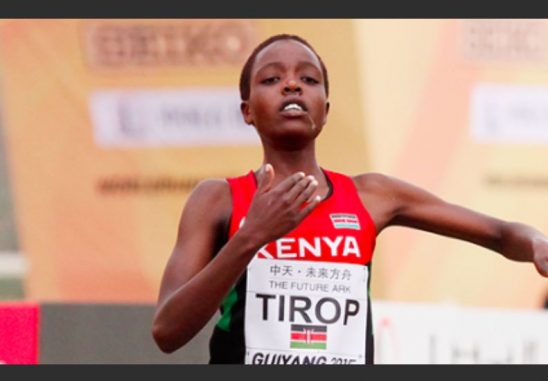 Agnes Tirop's family has come out to reveal some disturbing details of the events that occurred before her untimely demise. Neighbours found the 2020 Tokyo Olympics star dead at her home in Iten, Elgeyo Marakwet County on 13th October, 2021.
The 25-year-old long-distance runner had several stab wounds. The wounds had allegedly been inflicted on her by her husband Ibrahim Kipleting Rotich alias Manu. Earlier reports suggested it was a case of a love triangle gone wrong.
Before she met her death, they had issues as a couple and they were not living together. The investigating officers suggested that they might have disagreed over some fishy text messages on Agnes's phone.
According to Agnes Tirop's family, the disagreement had nothing to do with another man. A family spokesperson told journalists that the couple had issues to do with property.
Agnes Tirop's family reveals the bone of contention
While she was at the Olympics competitions in Tokyo, Japan, Ibrahim transferred her hard earned properties to his name. Some of the properties include some rental buildings. At a tender age of 25, Agnes had created some serious wealth.
Her killer husband took advantage of her naivety to enrich himself. The family believes Ibrahim's motive of killing Agnes was because she questioned why he transferred her properties to his name yet she was still alive.
ALSO READ:
1: Revealed: How Eddie Ndichu Frustrated Zora Actress Sarah Hassan before Marrying Janet Mbugua
2: Sad Details of Sindege Mayaka, the 85-yr-old Woman that was lynched in Kisii over Witchcraft Claims
3. Former Tottenham Star Victor Wanyama and Girlfriend Serah Teshna Announce Their Baby
The athlete's father Vincent Tirop revealed to the media how Ibrahim started defiling Agnes while she was in secondary school.
He used the word defile because the Kenyan governemnt has capped the age of consent at 18 years. When he stole her from school at Form Two, she was only 15 years old. It even became a police case. But for some reason, Ibrahim won Agnes's heart, and they got married.
The guy knew very well that he had landed a gold mine. Agnes started breaking records at a very tender age. She was winning international competitions with ease, including world cross-country championships.