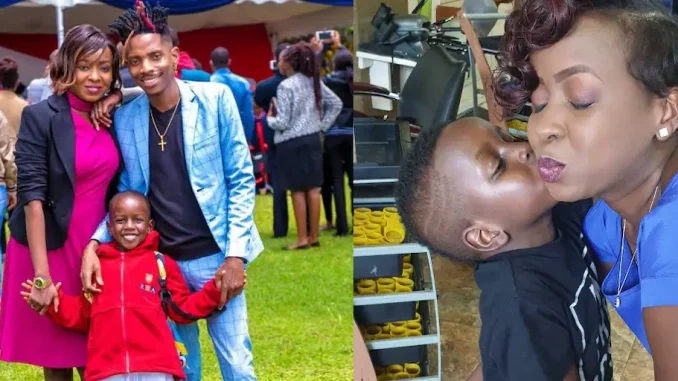 Jacque Maribe is a former senior political reporter at Citizen TV. Her journalism career took a nosedive after they accused her fiancee of killing Monica Kimani.
They were both arrested, but they released her on cash bail while Jowi served a 2-year jail term before securing a cash bail.
That ordeal killed their love after they got engaged in a lavish party attended by their close friends and celebrities.
He slaughtered Monica Kimani in her house hours after she left Juba for Nairobi. Jowi was the last one that was seen in her house.
Jacque Maribe could not make a comeback in media partly because of the conditions the court gave her when she set free on cash bail.
She has kept a low profile throughout, perhaps concentrating on taking care of her son whom she sired, together with comedian Erick Omondi.
She has, however, shared with her fans the struggles she went through before getting pregnant.
Maribe revealed that at one point she thought she will never get pregnant and be a mother until she met Erick Omondi.
"UKO na mood swings kama za mtu ako na mimba (you have mood swings like a pregnant lady)," a dear buddy of mine @brianbaraka informed me one day in South Africa.
We joked, but it was the most difficult vacation I'd ever taken; I was literally throwing up all the time. But I didn't think it was possible that I was pregnant.
ALSO READ:
Because my son's father, Eric omondi, demanded we wait a while," she explained. The almighty father gifted her with a bouncing baby boy after returning home in May 2014.
" I cherished every single hour during this pregnancy." The date I asked God was the day I delivered".
The versatile journalist guards her son fiercely, and it took her years to reveal him.
"My son is my number one priority. I care about his well-being. I am his mother, not because of his name, but because of his life. Several times during that pregnancy, I would have miscarried him.
So, if you see me being an overly protective mother, you'll know what I'm talking about. Anyone who harms my child is a reincarnated devil, "she stated.